It is not easy to find a good product that will rid your flowerbed of weeds without harming the actual ornamental plants and flowers. We know that you want the best weed killer for flower beds and will help you identify them.
There are many products out there that don't work. There are still plenty that do work and we would like to present them to you in our guide below!
Whether you're in need of a ready-to-use weed killer that is safe to use around your flowers or if you're feeling a bit more ambitious and want to try making your own, we have the top suggestions for you right here.
Do You Need to Kill or Prevent?
Many of you set out in search of the best weed killer for flower beds (which you will find here), but did you also take future weeds into consideration?
You'll find two kinds of products here. Those that kill existing weeds and those that prevent weeds from growing in the first place. And, chances are you could need both!
We are a professional reader-supported review site. You get our best product recommendations and we can receive small commissions from our affiliates at no cost to you. Win-Win!!
Types of Weed Killers
Here are the main choices you have for flowerbed weed killers:
Granules. These are great for large flowerbeds. Be sure that you work them into the soil and water them thoroughly after applying.
Concentrated Liquids. Remember that concentrated liquids usually require that you add water. This means you'll probably need to have an empty bottle or container on hand so you can mix everything in it and then use the bottle to spray the weeds.
Ready-To-Use. If you are in need of something quick and easy, then we suggest that you get a ready-to-use spray that is already mixed and safe to use as-is.
Try Alternative Methods!
In our opinion, the best weed killer for flower beds is a natural one. If you enjoy whipping up batches of household cleaners or beauty creams, why not try a safe and effective weed killer while you're at it?
Boiling Water. Looking for a quick and easy way to kill a few stray weeds in hard-to-reach areas of the flowerbed? We suggest one of our favorite alternative methods: boiling water. Isn't that a great idea!
Boiling water alone is enough to scald and kill some non-invasive weeds. But you don't want to risk dumping any on your delicate flowers and plants. So, we suggest you get a hot-water friendly watering can with precision pour spout.
This one from Esschert Design is made of stainless steel and has a precision spout that will allow you to target stubborn weeds.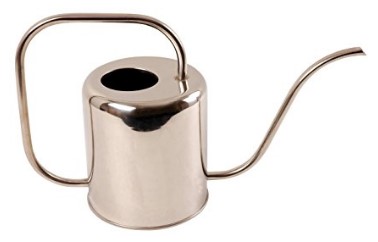 You can use this for any indoor plants you have, too, so it won't be a waste of money!
Vinegar. Vinegar is another common weed killer for gardeners and we'll be taking a closer look at it in our review section below!
Often times, DIY recipes call for both vinegar and liquid dish soap. Here is a nice and safe soap to use if you want to try that: No products found.. It is also biodegradable and "cruelty-free."
Lemon is a natural insect repellent, so their lemon verbena scent will help your flowerbeds out in multiple ways!
Top 3 Best Weed Killer for Flowerbeds Reviews
Seeing that this is a common herbicide used to keep the weeds down in crops. It is also safe for you to use around the flowerbeds.
This is a 41% solution of glyphosate that, when applied to the weeds, will be absorbed by their leaves and kill them to the root.
Compare-N-Save 75324 Herbicide, 1-gallon, white
Rainproof in 2 hours
Visible results in as little as 2 to 4 days
Contains 41-percent glyphosate
Covers over 25,000 square feet
Makes up to 85 gal. of ready-to-use spray. Note: Packaging may vary
*Price from:  2023-09-28 at 12:50 EST
It's a great general weed killer to have in your garden shed. You can use it on pathways, around the vegetable garden, and in the flowerbeds. Keep in mind that while it is great at killing weeds, you'll have to stay on top of things in order to prevent them from coming back. This isn't a one-spray-kills-forever solution. ✔️ Let's get it NOW!
You'll need a sprayer to mix and then apply this weed killer, so if you don't already have one, we suggest this No products found..
Roundup is one of the most well known weed killers there is. Because of its popularity, it has been in the news a lot lately. Rather than try to describe the discussion here, I'll just link to a great WikiPedia article on it: https://en.wikipedia.org/wiki/Roundup_(herbicide)
You'll notice that this bottle, which is only a 1/2-gallon, is quite expensive, but as a concentrate, you'll be diluting it with water so it will last quite a while.
Currently on Sale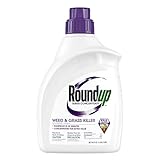 Roundup Super Concentrate Weed & Grass Killer - Includes Easy Measure Cap, 0.5 gal.
Roundup Super Concentrate Weed & Grass Killer is a great value for large areas
Rainproof in 30 minutes
Weeds usually yellow and wilt as fast as 2-4 days
For use around flowers, shrubs, and trees; on patios, walkways, driveways, gravel areas, and mulch beds; along fences and foundations; in large areas for lawn replacements or garden plot preparation
Use easy measure cap and apply with a Roundup brand tank sprayer
*Price from:  2023-09-28 at 04:04 EST
This also contains glyphosate like the previous product but in a higher percentage (50.2% versus the 41% from Compare-N-Save).
Roundup has quite a few products to choose from, but this one can be used around flowers, mulch beds, and many of the common nooks and crannies where those stubborn weeds grow. ✔️ I'm sold!
No products found.
A 20% solution of white vinegar should be strong enough to kill the weeds. We personally recommend this one from Factory Direct Vinegar. And at this strength, you will find it effective in many other cleaning situations. This is definitely my "go-to" for bathroom cleaning where limescale can build up, but I digress.
No products found.
There are weed killer recipes that gardeners swear by that contain vinegar, but the one thing you need to take into consideration when you use it is that it can lower the pH of your soil!
If your soil is alkaline, this might actually be a good thing, but if your soil is already acidic, it might have a negative effect on the surrounding plants.
You can search for plenty of recipes online, but when it comes to choosing the vinegar, you're going to need the stronger stuff.
Be very careful when you handle it because it can burn you (it is an acid). Always wear safety gloves and goggles when using this strong product! No products found.
We would recommend you get some glass bottles to mix the solution up in. This could be for straight application, diluted application, or for a DIY cleaning solution.
Currently on Sale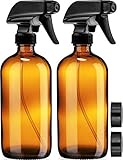 Empty Amber Glass Spray Bottles - 2 Pack - Each Large 16oz Refillable Bottle is Great for Essential Oils, Plants, Cleaning Solutions, Hair Mister - Durable Nozzle w/Fine Mist and Stream Setting
UV protection - heavy duty protection against degradation from ultraviolet light and keeps your essential oils safe plus the glass is not affected by strong oils like citrus.
Great design fits in your hand but is large enough that you will not have to constantly refill. Looks great and is sturdy with a reliable squeeze trigger sprayer. Includes 2 caps and 4 labels.
Reduce plastic chemicals in your house with a chemical free reusable food grade mister for all your professional and personal needs.
Refill the bottles with whatever you make at home. Unlimited uses including hydrogen peroxide or isopropyl alcohol, mixing your own cleaning solutions, plant misting for succulents or herbs, home linen spray for ironing, hair moisturizing spray, pet sprays for cats and dogs, natural air freshener for the house, floor or carpet cleaner, vinegar and water mixture for cleaning windows, car detailing, washing vegetables, bathroom deodorizer and homemade skin and beauty recipes.
Lifetime warranty because the spray bottles durability. Order one now and If you are not happy for any reason let us know. The spray bottles don't have any filter and are not suited to liquids with particulate matter. Any particulate matter should be filtered before filling the spray bottle.
*Price from:  2023-09-28 at 04:04 EST