What is every gardener's solution to a hungry lawn and garden that is being overrun by weeds? Yes, find and use the Best Weed and feed!
This handy mixture of ingredients will allow you to safely attack pesky weeds growing in your lawn while providing the lawn, itself, with a healthy dose of fertilizer to help it thrive.
So how do you choose a weed and feed mixture? What are the differences between them and which is the best weed and feed for your lawn?
We'll answer all of the questions for you in our guide below. Also, check out the always up to date best sellers!
We are a professional reader-supported review site. You get our best product recommendations and we can receive small commissions from our affiliates at no cost to you. Win-Win!!
Top Selling Weed and Feeds
*Price from:  2023-09-29 at 05:46 EST
Important Buying Info
There are many small details to take into consideration before you purchase to ensure that you are truly getting the best weed and feed for your lawn and garden.
Be sure to take these things into consideration before you purchase:
Type of Weed(s). Remember that not all lawns suffer from the same weed problem. If you have no dandelions but patches of clover, then you should look for a product that specifically targets clover.
You'll find other mixtures that target crabgrass, chickweed, ragweed, and plantain just to name a few.
Your Grass Type. Make sure that you know your grass type before you choose a fertilizer because some grasses are actually considered weeds in certain areas. The last thing you want to do is apply a weed killer that ends up killing your grass!
Another reason to verify your grass type is to make sure that you're providing it with the proper fertilizer
Application Method. These come in two forms: granules or liquid.
Liquids are easy because you can simply hook them up to the hose and then spray them on the lawn. This is quick and you can cover a lot of lawn easily. It is a bit harder though to ensure you are getting the correct application rate. I find with practice this is not a problem. When I first started using liquid weed killers and fertilizers I generally used too little not too much. So, just try it out delivering at a casual rate, then see how much product you have applied. You can then adjust your application.
If you have something to help you apply the granules, known as a spreader, then granules are fine. If you don't have a spreader, we suggest that you get one because you don't want to risk burning your grass by applying too much product into a concentrated area.
And for the Flower Beds?
Most of you are probably in search of a weed and feed to use on your lawn, but remember that there are good "weed and feed" products if you're looking for a 2-in-1 solution to fertilize the flower beds while attacking the most common weeds that grow there.
Top 3 Best Weed and Feed Reviews
This is a great product in an easy to use spray bottle. Just connect it to your hose, turn on the water, and you are ready to go. Some weeds will quickly draw in the product when applied as a fluid. Apply during a sunny day when the weeds are actively growing and you'll see results very quickly.
Currently on Sale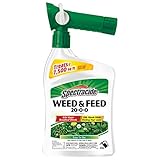 Spectracide Weed & Feed 20-0-0 (Ready-to-Spray) (32 fl oz), 1 pack
DUAL-ACTION FORMULA: Kills major broadleaf weeds while feeding your lawn.
FEEDS LAWN: Fertilizes with 20 percent nitrogen formulation.
KILLS WEEDS: Controls dandelion, chickweed, knotweed, plantain, clover, mallow, purslane and many broadleaf weeds as listed.
QUICKFLIP SPRAYER: Just connect to your hose and spray – just grip, flip and go.
COVERAGE: 32 ounces treats up to 7,500 square feet of lawn.
*Price from:  2023-09-29 at 05:46 EST
This is a 32-ounce bottle and can treat up to 7,500 square feet of lawn. I like that on my small lawn, I can do three treatments. The unused product easily stores until I need to apply it again. For best results, I have re-applied 2-weeks after my first application.
This Spectracide product is clearly one of the best weed and feeds that you will find today.
Here is a list of the weeds it is said to control: dandelion, chickweed, knotweed, plantain, clover, mallow, purslane and many others as listed. ✔️ Let's get it NOW!
Moving from the flowerbeds to the lawn, we have Scotts Turf Builder Weed & Feed.
Currently on Sale
Scotts Turf Builder Weed & Feed3, Weed Killer Plus Lawn Fertilizer, Controls Dandelion and Clover, 5,000 sq. ft., 14.29 lbs.
Scotts Turf Builder Weed & Feed3 weed killer plus fertilizer kills existing listed weeds and feeds to thicken your lawn and crowd out future weeds
Controls over 50 listed lawn weeds, including clover, dandelion, plantain, morningglory, chicory, eveningprimrose, and purslane
Apply this combination weed control and lawn food to a wet lawn when weeds are actively growing and daytime temperatures are consistently between 60°F and 90°F
This lawn care product can be applied to Bahiagrass, Bermudagrass, Bluegrass, Centipedegrass, Fescue, Ryegrass, and Zoysiagrass
One 14.29 lb. bag of Scotts Turf Builder Weed & Feed3 covers 5,000 sq. ft.
*Price from:  2023-09-29 at 05:46 EST
It is best to apply this product in the spring since it will help promote healthy growth of grass throughout the spring, summer and fall, as well as keeping the dandelion and clover at bay during the same time period. Fall is OK, too, if you live in a warmer climate where you can expect growth throughout the fall and winter. Be sure to keep people and pets off lawn for at least 24 hours after applying this product.
It comes in granule form and can go on any type of grass with a N-P-K ratio of 28-0-4. This is a great product for common weeds and feeding. If you have more difficult weeds to deal with like crabgrass, you will need an additional product.
This seems to work best with smaller lawns. ✔️ I'm sold!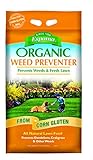 Espoma Organic Weed Preventer-25 lb. CGP25, 25 lb, Natural
Made from corn gluten meal
Feeds lawns to ensure a deep, green color and prevents weeds by inhibiting root development in seedlings
Apply twice per year, early spring and fall
Granulated for easy application, Espoma Organic Weed Preventer provides long lasting nitrogen for a thicker, greener lawn
Children and pets can safely play on lawn after application.
*Price from:  2023-09-29 at 05:46 EST
Yes! We definitely have an organic option on the list for those of you who prioritize safe and non-hazardous weed control!
This all-natural weed preventer/lawn feeder is made from corn gluten meal and has a guaranteed fertilizer analysis of 9-0-0.
The one important thing to keep in mind with this specific product is that it does not kill existing weeds; it is designed to prevent new weeds from growing.
Corn gluten meal is a by-product of milled corn. Being a natural protein, this corn meal gluten also happens to work well as a plant food and as a way to suppress weeds!
If you're proactive about your lawn care and looking for a product that will prevent the weeds (naturally), then this is the best weed and feed for your lawn. If you want something to kill existing weeds, then have a look at some of the other great options on our list! ✔️ Yes! I want it!