10 Best Weed and Feeds 2017
What is every gardener's solution to a hungry lawn and garden that is being overrun by weeds?
Weed and feed!
This handy mixture of ingredients will allow you to safely attack pesky weeds growing in your lawn while providing the lawn, itself, with a healthy dose of fertilizer to help it thrive.
So how do you choose a weed and feed mixture? What are the differences between them and which is the best weed and feed for your lawn?
We'll answer all of the questions for you in our guide below, but first, head down to our table where you can compare and contrast the top 10 products!
Top 10 Weed and Feeds Table
Picture
Name
Details
Coverage
Price
Rating (1-5)
Picture
Name
Details
Coverage
Price
Rating (1-5)
1. Preen Garden Weed Preventer Plus Plant Food - 16 lb. pail
For use in flower beds
2,560 sq. ft.
$$$
4.3
2. Scotts Snap Pac Lawn Food - Weed & Feed 12.8 lb.
Targets dandelions, white clover, chickweed, plantain and ragweed on lawn
4,000 sq. ft.
$$
4.1
3. Espoma Organic Weed Preventer - 25 lb. CGP25
Prevents crabgrass and dandelions on lawn
1,250 sq. ft.
$$$$
3.9
4. Scotts Turf Builder Weed and Feed Fertilizer 5M
Helps clear out dandelions and clovers on lawn
5,000 sq. ft.
$$
3.9
5. Scotts Turf Builder Bonus S Southern Weed and Feed, 5000 sq. ft
Kills dollarweed

Can only be used on St. Augustine grass, Centipede grass, Zoysia grass and Carpetgrass
5,000 sq. ft.
$$$
3.9
6. Scotts Liquid Turf Builder Lawn Fertilizer with Plus 2 Weed Control
Kills dandelions, clover and other lawn weeds

For use on Bluegrass, Fescue, Ryegrass, Bahiagrass, Bermudagrass, Centipedegrass, Zoysia grass
6,000 sq. ft.
$$
3.7
7. Greenview 2129172 Fairway Formula Spring Fertilizer Weed & Feed
Kills more than 250 weeds on lawns
5,000 square
$$$$
3.6
8. Spectracide Weed & Feed 20-0-0 (Ready-to-Spray) (HG-96262) (32 fl oz
Kills major broadleaf weeds on lawns
7,500 sq. ft.
$
3.5
9. GreenView Weed and Feed - 13 lb. bag Covers 5000 sq. ft.
Kills more than 250 weeds on lawns
5,000 sq. ft.
$$
3.3
10. Bayer Advanced 704840B 3-in-1 Weed and Feed for Southern Lawns
Kills dollarweed, dandelion and clover

For use on Southern Turfs: Bermudagrass, St Agustinegrass, Centipedegrass, Zoysia
5,000 sq. ft.
$$$$
3.2
Important Buying Info
There are many small details to take into consideration before you purchase to ensure that you are truly getting the best weed and feed for your lawn and garden.
Be sure to take these things into consideration before you purchase:
Type of Weed(s). Remember that not all lawns suffer from the same weed problem. If you have no dandelions but patches of clover, then you should look for a product that specifically targets clover.
You'll find other mixtures that target crabgrass, chickweed, ragweed and plantain just to name a few.
Your Grass Type. Make sure that you know your grass type before you choose a fertilizer because some grasses are actually considered weeds in certain areas. The last thing you want to do is apply a weed killer that ends up killing your grass!
Another reason to verify your grass type is to make sure that you're providing it with the proper fertilizer
Application Method. These come in two forms: granules or liquid.
Liquids are easy because you can simply hook them up to the hose and then spray them on the lawn.
If you have something to help you apply the granules, known as a spreader, then granules are fine. If you don't have a spreader, we suggest that you get one because you don't want to risk burning your grass by applying too much product into a concentrated area.
And for the Flower Beds?
Most of you are probably in search of a weed and feed to use on your lawn, but remember that there are good "weed and feed" products if you're looking for a 2-in-1 solution to fertilize the flower beds while attacking the most common weeds that grow there.
Top 3 Best Weed and Feed Reviews
This is the only product on our list that is safe for use in the flowerbeds and one that happens to work quite well!
The nice thing about this is that you can apply it anytime: spring, summer or fall. It comes with a handheld applicator scoop that allows you to gently apply the product to your flowerbeds and this 16-pound container of granules should cover 2,560 square feet.
This is a 9-12-9 fertilizer mixture (so 9% nitrogen, 12% phosphate and 9% potash) along with a bit of sulfur and chlorine.
Here is a list of the annual weeds it is said to prevent: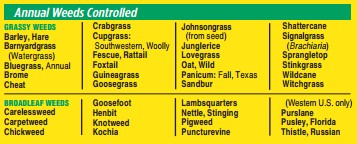 Also safe for use around vegetables (but read the directions carefully before applying).
Moving from the flowerbeds to the lawn, we have Scotts Snap Pac Weed & Feed.
You can apply this during any season and those of you with kids and/or pets will be pleased to know that it is a friendly mixture for both!
It comes in the granule form and can go on any type of grass with a fertilizer analysis of 26-0-4.
The only down side to this product is that the bag is specifically designed to "snap" onto the Scotts brand spreader (which you can find here). It doesn't cost too much but if you ever switch brands, the bags won't fit on the spreader!
It works quite well and the spreader/bag combination helps you save space in the storage bag (it always sits on the spreader).
This seems to work best with smaller lawns.
Yes! We definitely have an organic option on the list for those of you who prioritize safe and non-hazardous weed control!
This all-natural weed preventer/lawn feeder is made from corn gluten meal and has a guaranteed fertilizer analysis of 9-0-0.
The one important thing to keep in mind with this specific product is that it does not kill existing weeds; it is designed to prevent new weeds from growing.
Corn gluten meal is a by-product of milled corn. Being a natural protein, this corn meal gluten also happens to work well as a plant food and as a way to suppress weeds!
If you're proactive about your lawn care and looking for a product that will prevent the weeds (naturally), then this is the best weed and feed for your lawn. If you want something to kill existing weeds, then have a look at some of the other great options on our list!