You've noticed unattractive weedy-looking grass taking over your yard lately. The bad news is that you probably have crabgrass. This is a fast-growing invasive weed that will spread like wildfire through your yard if you don't do something about it. The good news is that there are several options for nipping this problem in the bud.
By the time you get done reading this article, you'll be able to find the best crabgrass killer to get your yard back under control. You'll see the top crabgrass killers on our table. Then you can scroll down for buying information that will help you make your choice. You'll also see reviews of the top three products available.
Do You Want to Kill Existing Crabgrass or Stop It Before It Starts?
Some formulas of herbicides will serve as all-in-one products – they'll prevent the emergence of new seedlings and kill the crabgrass that is already there.
If you have a problem with crabgrass every year, you can look for the best crabgrass preventer and the best crabgrass killer all rolled into one. If you just have a random patch here or there, you can opt for only the post-emergent crabgrass killer.
For most home owners, the biggest mistake is not getting a pre-emergent crabgrass killer down soon enough in the Spring. Crabgrass is a pretty strong weed and it is much better to keep it from ever starting. Crabgrass grows very quickly especially if given direct sunlight. As the plant gets bigger, it gets much harder to kill and could take several applications.
Do You Want to Protect the Rest of Your Yard?
Is your yard completely overrun by crabgrass? Does it seem like a pipe dream that you can put down enough product to take care of the serious overgrowth you're facing?
If so, you might want to use a non-selective crabgrass killer. That simply means the herbicide will kill your crabgrass, but it might also kill everything in its path. You may have to be prepared to seed a new lawn if you go this route. With this much crabgrass in your yard, you need to get aggressive with treatment.
If you just have a few problem areas and the rest of your lawn is still in good shape, you can opt for a selective herbicide that only knocks out crabgrass, leaving the rest of your plants healthy.
How Do I Want to Apply the Crabgrass Killer?
You have a couple of options when it comes to how you'll apply the crabgrass killer. Read on and see which type you choose depends upon your comfort level.
You can purchase a ready-to-use crabgrass killer that will come in a spray bottle. All you have to do is spray it on your trouble areas. It doesn't get much easier than that.
For bigger areas, you may want to consider getting the kind of herbicide that will attach to your garden hose for the application. For large areas and even complete lawns, this is the recommended route. And will save you time and money as opposed to trying to spot treat the weed.
Which way you choose really depends upon your comfort level with handling herbicides.
Selection of Crabgrass Killers
Compare-N-Save Concentrate Grass and Weed Killer
When it's mixed properly with water, this container of grass and weed killer can make 85 gallons of spray that's ready to go. That much mixture can cover more than 25,000 square feet of lawn.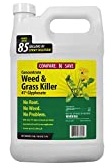 You won't have to wait all summer to see results from this product. You'll start to see crabgrass dying off in 2 to 4 days after you apply it.
If you're trying to fit in spraying this weed killer before the rain hits, you'll want to know that it dries and becomes rainproof in 2 hours.
Gardeners who want to use this crabgrass killer around their fruit and vegetable gardens need to closely follow the directions on the label.
Since this killer is a post-emergent spray, it won't stop future growth, it will just kill your existing crabgrass.
Be aware that this herbicide will kill ALL your plants – not just your crabgrass. So you'll want to spray it with caution.
BASF Drive XLR8 Herbicide
When you're looking for the best crabgrass killer on the market, you should consider Drive XLR8. It's a liquid formulation, which is water-based, and it helps you get your crabgrass problem under control in a jiffy. Because this is a very specific crabgrass formulation, it is going to cost more, but it is the most effective product we have found for selectively killing crabgrass. The turf remains unhindered.

One single container of Drive XLR8 will treat a full acre. It is taken up by the plant quickly, which means those plants will be eliminated soon after you apply this solution.
It will dry in less than 1 hour. You won't have to be overly concerned about checking the weather forecast. A quick look at the sky to see any rain clouds will be enough to know it's safe to apply.
This product can kill crabgrass in one application, which means you won't have to spend your whole summer battling against your crabgrass – you can take care of it in one day.
Syngenta Tenacity Turf Herbicide
Crabgrass won't be the only weed that suffers when you use Tenacity Turf herbicide. It will kill or control more than 40 species, which means you'll get rid of every pesky weed or grass in your lawn. This is an expensive but highly useful product with the active ingredient of Mesotrione (at 40% concentration).

While many sprays only kill existing crabgrass, this one can be used both as a pre-emergence and post-emergence spray. You can use it on your existing lawn. You can also use it on turf that has just been seeded without fear of killing those delicate seedlings.
You'll know it's working when the leaves begin to lose their color, turning light green before becoming white. After that, the plant dies. Although the weeds won't die the next day as they do with quick-acting herbicides, it will take care of them within a week.
This herbicide is very safe. It earned a reduced-risk designation by the Environmental Protection Agency because of its good ecotoxicity performance. We are glad to have it for your consideration.