When you were little, the sight of dandelions probably filled you with joy. But now that you're an adult seeing these nuisances sprouting up all over your yard likely has you seething with rage. Time to find the best dandelion killers to take care of these beautiful beasts.
If these yellow weeds have you seeing red, let us help you take care of your problem. Compare the top-selling dandelion killers in our table. Then scroll down for useful buying information as well as reviews of our three favorite dandelion killers.
Do You Want to Just Kill Dandelions or Other Plants Too?
When choosing the best dandelion killer for your yard, you need to have a firm grasp of what your needs are. Do you want to kill the dandelions only or do you have other plants you would like to eliminate as well?
Selective Herbicide. If you just have a problem with dandelions and you want your other plants to remain healthy, you need to look for a selective herbicide. A selective herbicide is a substance that will get rid of weeds like dandelions without harming the other plants in your yard that are actually wanted.
Non-Selective Herbicide. If you have dandelions popping up through the cracks in your sidewalk or patches in your driveway where you don't want any plants at all, you should opt for a non-selective herbicide. These will kill almost every plant it comes in contact with, including dandelions.
You Might Need Both Nonselective and Selective Herbicides
Most yards have more than one type of surface. You have your lawn, but you'll also have driveways, patios, and flower beds.
If you're having problems with dandelions in your yard, but also on the cracks in your driveway, you should bite the bullet and buy both types of herbicide. A selective and a nonselective. They both address the specific needs of your lawn.
You might not welcome the expense of purchasing two types, but your situation demands it. If you've spent so much money buying a house and maintaining it, you don't want to get cheap. The solution is pretty quick and simple and results in a better appearance.
Getting rid of the grass, dandelions, and other weeds that are poking through cracks in sidewalks and driveways will help your yard have a tidier, well-maintained look.
What Kind of Herbicide Will Take Care of Dandelions?
Dandelions are classified as a broadleaf weed. That means you need an herbicide specially formulated to kill off broadleaf weeds. The good news is that modern herbicides generally do quick work of broadleaf weeds if properly applied.
You can't just mow dandelions and think that will take care of your problem. They must be killed at the root, not the stem.
We are a professional reader-supported review site. You get our best product recommendations and we can receive small commissions from our affiliates at no cost to you. Win-Win!!
Top 3 Best Dandelion Killer Reviews
If your whole yard isn't overrun with dandelions, but you need a super-fast acting herbicide to use on problem areas like cracks on your driveway or around your patio, this dandelion killer will solve your problem. If you have a yard filled with weeds, you can use this product and then re-seed your yard to keep a season's worth of weeds away from your property.
Currently on Sale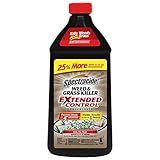 *Price from:  2023-09-29 at 00:53 EST
Spectracide will kill off more than 200 broadleaf weeds, including dandelion, chickweed, and other ones that can irritate allergies, like ragweed. It will knock out even the toughest weeds.
This one container will treat a maximum of 16,000 square feet. It kills the roots of the plants, so they won't be back for at least three months.
This stuff starts to work in just hours after you apply it. If you have plants that you want to keep, protect them with a piece of plastic before you spray. That will save all your favorite plants, but allow you to get rid of the nuisances. ✔️ Let's get it NOW!
This herbicide is going to cost a bit more but check this out. It is a totally organic product. Kid and pet safe. You will not have to worry about little Sally or little Johnny or Fido. Also, no harm to bees, fish, or any other animals.
Currently on Sale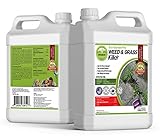 ECO Garden PRO - Organic Vinegar Weed Killer | Kid/Pet Safe | Clover Moss Killer for Lawns | Green Grass & Poison Ivy Killer | Spray Ready Glyphosate Free Herbicide (1 Gallon)
✔️ PET & KID SAFE HERBICIDE - Eco Garden Pro Weed Killer is designed with you and your family in mind! All of our ingredients are carefully selected to be SAFE FOR: PETS, CHILDREN, BEES, FISH, AND ANY LIVESTOCK!
✔️ ORGANIC WEED KILLER - Formulated to KILL WEEDS AND GRASS FAST. Our proprietary formula will deliver IMMEDIATE RESULTS WITHIN 24 HOURS! Perfect for all residential, commercial, industrial, and agricultural use - including: driveways, sidewalks, concrete, mulch beds, pavement, flowers beds, parking lots, and farm lands.
✔️ WORKS within 24 HOURS POWERFUL PROPRIETARY FORMULATION - Our READY TO USE (RTU) formula contains natural white vinegar, organic rock salt, biodegradable plant activators, and fermentation derived co-factors, all designed to eliminate weeds and grass effectively and quickly.
✔️ WORKS FOR CLOVER, MOSS, & POISON IVY - Eco Garden Pro Weed Killer will work to eliminate all conventional weeds and grasses, including: DANDELIONS, CLOVER, CHICKWEED, DOLLAR WEED, THISTLE, CRABGRASS, MOSS, WHITE COVER, AND GENERAL WEEDS AND GRASSES.
✔️ GREEN LAWN FOR A GREEN ENVIRONMENT - Eco Garden Pro Weed Killer is designed to work effectively without any toxic chemicals. The product is ECO FRIENDLY, PHOSPHATE FREE, 100% BIODEGRADABLE, AND SAFE FOR GROUND WATER.
*Price from:  2023-09-29 at 00:53 EST
This organic product works extremely quickly and comes ready-to-use. No mixing or diluting. The formulation is proprietary but based on vinegar, salt, and fermentation-derived co-factors. My kids are now grown, but if I had this available when I was raising my children it would be my immediate choice.
This natural weed killer works on a broad range of common weeds including dandelions, clover, chickweed, dollar weed, thistle, crabgrass, moss, and white cover. Even poison ivy is targeted by the formulation.
Eco Garden keeps their manufacturing process clean as well focusing on Sustainable Sourcing, and Green Manufacturing. You can feel good about using a product like this. ✔️ I'm sold!
When you're looking for the best dandelion killer, you'll want to consider purchasing Southern Ag 2, 4-D. You can use this product on most types of lawn grass without fear of killing it off. It's formulated to be safe to use on certain vegetation, but it's powerful when it comes to eliminating broadleaf plants.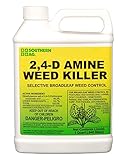 *Price from:  2023-09-29 at 01:09 EST
If you use it near vegetable plants, you'll want to keep them covered, so you don't accidentally spray them. Some vegetables or herbs may be sensitive to this product if enough of it is sprayed. Plus, when you're growing food, it's always a good idea to only use sprays made specifically for edible plants, just to be on the safe side.
This container will cover up to 1,000 square feet and it's simple to spray onto your yard. You just need to mix a little bit of this product into water, and before you know it, your dandelion problem will be a thing of the past. ✔️ Yes! I want it!