Whether you have a sprawling garden or just a few rows, you probably need a garden sprayer. Garden sprayers are essential for applying weed killer, pest control, or fertilizer. Finding and using the best garden sprayer can make your gardening and yard care easier and help you develop healthier, more attractive plants.
Finding the right garden sprayer can be confusing with so many different options on the market. That's where we come. Use our handy guide to help you find the best garden sprayer to meet your individual gardening needs.
Always Remember:
Always clean your sprayer thoroughly after every use. Residual chemicals left in the sprayer can corrode or degrade parts.
Store your garden sprayer and all chemicals safely away from children.
Always use a separate sprayer for separate chemicals. Traces of herbicide are often absorbed in the garden sprayer even if you've cleaned it thoroughly. You should clearly label your sprayer "Herbicide Only" and use a different sprayer for fertilizer and plant food to protect your plants.
We are a professional reader-supported review site. You get our best product recommendations and we can receive small commissions from our affiliates at no cost to you. Win-Win!!
How to Choose a Garden Sprayer
There are several types of garden sprayers available on the market. Each has its own set of pros and cons. Knowing how each type works will help you pick out the best garden sprayer to use on your plants and flowers.
Compression Sprayer
This type of garden sprayer has a tank that holds the pre-mixed products. A pump is used to create pressure in the tank which forces your product through the nozzle and out onto the area of your garden you want to treat. Compression sprayers are very portable and easy to use in tight places. Another advantage is the fine mist that these sprayers generate which minimizes chemical run-off.
Hand Pump Sprayer
Extremely easy to use, these garden sprayers are just like the hand triggered bottles that most household cleaners come in. The beauty of this type of sprayer is that they are easy to use and incredibly portable. However, if you have a large area that needs to be treated, it can be very time consuming and leave you with a cramped hand.
Hose-End Sprayer
Applied right to the end of your garden hose, these garden sprayers mix water with your garden product as it passes through the application nozzle. Most of these sprayers adjust for different dilution rates making them incredibly versatile. They are lightweight, generally inexpensive, and use your hose's water pressure allowing for long-distance application. However, gardening products tend to be applied in larger liquid droplets with this type of sprayer, which causes beading and run-off. In the long run, this may require that you use more product.
Ready-To-Use Hose-End Sprayer
This type of sprayer comes attached to a container of pre-mixed product. Since you don't have to add any garden product manually, they are quite convenient. Perfectly calibrated for the packaged product, all you do is attach it to your garden hose and you're ready to go.
Top 3 Best Garden Sprayer Reviews
This professional-grade sprayer is built from quality components to stand up to harsh agricultural products and rugged use. This one is made to last, so you'll be using it year after year.
Currently on Sale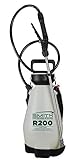 Smith Performance Sprayers R200 2-Gallon Compression Sprayer for Pros Applying Weed Killers, Insecticides, and Fertilizers
Professional grade sprayer and components built to withstand harsh agricultural chemicals along with rugged transport and use
Durable, 21 inch stainless steel wand with exclusive poly lining and the highest quality Viton seals for maximum chemical resistance
Highly efficient pump requires 25% fewer pumps per gallon than leading competitor
In-line, easy-to-access filter has more surface area than leading competitors which reduces clogging and minimizes cleaning
Faster, easier repair - pump seals can be changed within minutes without tools, which equals less downtime
*Price from:  2023-12-09 at 02:38 EST
It comes with a durable 21-inch stainless steel application wand to extend your reach. You won't have to stretch or bend to apply your garden product with this sprayer, and since the Smith Performance R200 Compressions Sprayer is highly efficient and requires less pumping than most other compressions sprayers, your gardening chores won't tire you out.
Multiple interchangeable nozzles are included so it can meet all your product application needs. It comes with an adjustable brass wide flat fan, narrow flat fan, and a foaming nozzle. The pump seals and gaskets are easy to change without any tools. It is so easy to use and maintain, that you'll wonder how you ever managed your garden without it. ✔️ Let's get it NOW!
If you liked the previous product but didn't like the idea of purchasing a manual compression sprayer, then this one is just up your alley.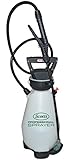 Scotts 190567 Lithium-Ion Battery Powered Pump Zero Technology Sprayer, 2-Gallon
No more pumping.
Rechargeable lithium-ion power. Sprays up to 12 full tanks per charge.
Premium, commercial grade shut-off with comfortable grip; lock-on feature; and easy-to-clean, in-line filter
21-inch poly wand with Viton seals in shut-off for long-term resistance to chemicals
Pressure release valve allows you to safely remove internal pressure prior to opening the sprayer
*Price from:  2023-12-09 at 02:38 EST
It features a rechargeable lithium ion battery that can get you through 12 tanks of liquid on a single charge. The nozzle offers you three different spray options, including fan, stream and cone.
Scotts really designed a fine little machine, here, and we doubt that you would disagree. If you don't need to spray large areas and you want something quick and handy, try this sprayer. ✔️ I'm sold, let's get it!
The best feature of this garden sprayer is the adjustable telescoping wand. The wand extends from 12 to 23 inches to get in those hard-to-reach places. It also makes for an easy ground-level product application that won't strain your back since you won't have to crouch or bend. It also has a multi-directional nozzle so you can spray from any position.
Currently on Sale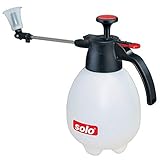 Solo 419 2-Liter One-Hand Pressure Sprayer, Ergonomic Grip
CHEMICAL-RESISTANT VITON SEALS for outstanding resistance to harsh chemicals.
MULTI-DIRECTIONAL NOZZLE for spraying from all positions and UNIQUE DRIFT GUARD for added control on spot treatment
LOCKING TRIGGER for reduced user fatigue
PRESSURE RELIEF VALVE prevents excess pressure
9.5-IN METAL WAND provides added reach
*Price from:  2023-12-09 at 02:38 EST
You'll also be impressed by the quality construction and high-density, UV resistant polyethylene tank. It's chemical-resistant, but also rugged. Intended for rough outdoor chores, this sprayer is anything but delicate.
There are a lot of little details in this sprayer that will make your life easier. And the only thing you'll love more than the Solo Pressure Sprayer is the price. ✔️ Yes! I want it!