How many weed trimmers have you looked at before landing on this guide? We're going to guess quite a few unless this is the beginning of your search for the best cordless weed trimmers. In either case, you'll find exactly what you need here!
While it may be easy to keep the tall weeds at bay when you have a trimmer, finding a good model isn't so easy with all of the choices available out there.
Below, we will be showing you some of the best battery-powered weed eater units. This will make it quick and easy to find a high-quality trimmer.
How to Choose a Trimmer
There are so many small things to take into consideration when choosing the best cordless weed trimmer. Here we highlight a few of the most important ones for you here.
Consider Trim Width
The full diameter of the strings as they spin, the trim width averages about usually around 12 inches. This is the primary sizing element for a string trimmer. If you have a high volume of cutting to do, we'd suggest that you look for a trimmer with a wider cutting width, maybe around 15 inches.
Choose a Motor Powerful Enough for Your Needs
Some of you may just need to lightly trim a few stray weeds around the perimeter of the yard. While others need to tackle the field of grass that's invading the lawn. The bigger the workload, the more power you'll need. If you know that you'll be using the trimmer in some thick areas on a regular basis, opt for one with a higher voltage which will directly result in more power. The battery voltages run from 12V up to 40V and well beyond for truly powerful units!
Battery Type
The newer Lithium-Ion (Li-ion) batteries are FAR SUPERIOR to the older NiCad batteries. If you are looking for a less expensive trimmer, you will still find some with NiCad batteries. These should be avoided as the batteries will not last, and often start underperforming in the first season of use! Only buy trimmers with Li-ion batteries regardless of size.
Battery Capacity
Battery capacity is measured in Amp-Hours (Ah). Note that a 40V 2Ah battery will have twice the energy of a 20V 2Ah battery, so you should only compare battery capacities on trimmers with the SAME battery voltage. The battery capacity will determine the run time of the unit.
Battery Count
If you need long and continuous run times, then you will want 2 batteries so one can charge while you are using the other. For most home users, this is probably not needed. Look at your requirements for run time and see what each battery will provide. The batteries are a very expensive part of the package!
Line Feed
Anyone who has owned a string trimmer knows that eventually, you will be dealing with the line feed. Sometimes it might just be to refill, but all too often it will be line feed failure. The latest models have advanced line feed mechanisms that work much better.
How to Determine How Long It Will Run
As we mentioned below, the "Ah" (amp-hour) rating of the battery is the amount of energy it can store. This will directly correlate to the runtime of the weed trimmer and why we are mentioning it to you now!
Be aware though, that many battery powered devices may state an unrealistic runtime. We found this especially true for older cordless wee trimmers.
The higher the Ah rating, the longer the battery will run on a single charge. Realize that the runtime is just an estimate and it is quite hard to determine an exact run time since so many factors are in play. Sometimes, you might just "zap" the weeds here and there. Other times you may have the motor running full-blast for long periods of time.
If you blast through a patch of thick weeds, the motor is going to work extra hard and you'll wear down the battery faster!
The moral of the story is that the AH of the battery can give you a clue to the run time but exact time depends on how you use it.
We are a professional reader-supported review site. You get our best product recommendations and we can receive small commissions from our affiliates at no cost to you. Win-Win!!
Top 3 Best Cordless Weed Trimmer Reviews
Just like my Apple MacBook Pro, I'll say this unit is expensive, BUT NOT OVERPRICED. The unit has top of the line features across the board: light, powerful, easy line handling. The Ego Power+ is one of our favorite trimmers. This is a serious professional product.
Currently on Sale

*Price from:  2023-09-29 at 01:59 EST
The shaft of the trimmer is now made from carbon fiber (upgraded from aluminum in the previous generation) keeping the weight down without sacrificing strength.
One of the keys to this trimmer's success is the brushless motor. Brushless motors are popular in power tools since they can make the tool lighter, more efficient, and less noisy.
This trimmer has the EGO Power POWERLOAD feature which will solve the trimmer line handling issue. You insert a precut line into the trimmer and then it will wind it into the head. This makes it reload of string simple, quick, and flawless! I cannot overemphasize how big this is! ✔️ Let's get it NOW!
DEWALT definitely has one of the best cordless string trimmer models on our list (and one of the most expensive!)
Currently on Sale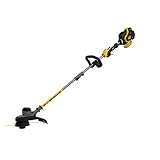 DEWALT FLEXVOLT 60V MAX* String Trimmer, Brushless, Two Speed, 15-Inch, 3-Ah Battery (DCST970X1)
Gear drive design of the edger/trimmer powers through tough overgrowth
High-efficiency brushless motor of the cordless grass trimmer maximizes run time and motor life
Lawn trimmer provides 15-inch cutting swath with 0.080-inch line (also accepts 0.095 inch)
Variable speed trigger with Hi/Lo speed control for added power or extended run time
Lightweight and ergonomic design maximizes control and minimizes stress on your arms
*Price from:  2023-09-29 at 01:09 EST
This also has a wide, 15-inch trim width like the previous trimmer and has a much longer run time thanks to a higher 3.0Ah. It comes with two different speeds (high and low). So if you don't need the extra available power, you can run on low and get extra-long battery life. And, just like the EGO; it also has a brushless motor to power it.
This unit weighs 13.9 pounds and thanks to the patented gear drive, you can slice through those thick patches of weeds like a hot knife through butter.
So why is the price so high? Well, you get the trimmer, battery, and battery charger, and if you had to purchase them separately, they'd cost you even more. But this is no ordinary battery.
The DeWalt FLEXVOLT system allows this batter to run at 60V or 20V so it can be used interchangeably with a whole line of DeWalt products. If this is you, this trimmer would be the first one to consider.
Considering the quality of this trimmer and the dependability of the brand, this is the right investment if you'll be using the trimmer on a regular basis and need something that can handle bigger jobs. ✔️ I'm sold, let's get it!
Currently on Sale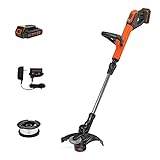 *Price from:  2023-09-29 at 01:09 EST
Our final suggestion is a bit more budget friendly and ideal for lighter trimming jobs. This unit has been on our recommendation list for years and continues to deliver.
This little trimmer weighs just 5.7 pounds, and we see that it is quite popular with quite a few senior gardeners since it is much lighter than some of the other units.
It runs on two 2.0 AH lithium batteries and should give you a run time of one hour on a full charge with average use.
One nice feature that we liked was the fact that you can change it from trimmer to wheeled edger by rotating the head, making it perfect to trim grass along flowerbeds and walkways.
Out of all the Black+Decker trimmers, this is probably the most popular. ✔️ Yes! I want it!