Every year the battery-powered cordless lawn mowers get better. They are now definitely the way to go for home use in lawns up an acre, and possibly larger. Look below for the key features, top sellers, and recommendations for the best cordless lawn mowers that you will find today.
I have been a supporter of electric lawn tools for a long time. I will admit though that I previously used plug-in electric devices (mowers, blowers, trimmers, etc) because the cordless units were SO expensive and also less performant. Neither of those deficits is true today.
Cordless batteries have come a long way. They now pack enough power and energy (run time), that they compete very favorably with gas devices. And with them being, so much cleaner and pleasant to use, why would anyone choose anything else?
Cost of Cordless Mowers
As I mentioned above, I used to use corded mowers. It is a pain to deal with a 100′ (or more) cord. I'm so glad that those days are in the past. Electric mowers are really cost equivalent to gas mowers now. And they seem to last longer and have a much lower total cost of ownership.
Batteries and RunTime
The old NiCad batteries were… not good to put it politely. Never buy a device with NiCad batteries these days. The Li-Ion batteries are so good. They are what power our laptops, cell phones, and every other important device.
You will find 2 primary ratings on mower batteries: Voltage and Amp-Hours (Ah)
Voltage: The voltage will determine how much instantaneous power mower can provide. Larger will generally be better, but also more expensive.
Amp-Hours(Ah): You will find amp-hour ratings like 4Ah. This means that the device could deliver 4 Amps (amount of electric current) AT THE RATED VOLTAGE for a continuous hour. A 40V 4Ah battery will have twice the total energy of a 20V 4Ah battery.
You must take these 2 measures (V and Ah) together when considering how much energy a mower has. You will want to match the mower to your mowing needs. If you have a larger yard and/or heavier mowing needs, you will need a higher voltage and more energy.
More energy can be supplied by a larger (as measured in Ah) battery, or by having multiple batteries. Two batteries might be required if you have a really large yard. Generally, batteries will drain a fair bit faster than they will charge. Some batteries are made for fast charging and you can achieve continuous operation by swapping batteries on and off the charger.
One word of warning. Some manufactures overstate the runtime of their batteries. Be on the watch out for this. No manufacturer wants to state that their batteries are not as good as their competitors so they may misrepresent the real-world capacity of their batteries.
Top Benefits of Electric Battery Powered Mowers
Electric mowers are so much nicer to use than their gas equivalents. Here are what I see as the top benefits you will find in the best cordless lawnmowers.
Clean and Easy Run
An electric mower has no exhaust fumes. There is no oil to worry about. Need to sharpen the blade, just flip the unit over. With a gas mower, you will cause all kinds of problems if you flip it over. First, it will leak gas: unpleasant and HUGE safety hazard. Then, it will not want to start because the engine will be flooded and the oil could be misplaced.
For electric, as long as you have a charged battery to install, you will be good to go.
Very Quiet Running
I never like the noise of a gas mower. Each Spring is marked with the weekend hum of gas mowers as all your neighbors start their spring yard cleanup. We seem to have come to accept this obnoxious sound, but there is no need. Electric mowers are much quieter and give off more of a hum than a roar.
Immediate and Consistent Power
Gas mowers grow old and finicky. They may not want to start. They may idle poorly. And when mowing sometimes they will just stop. Electric drive gives much more consistent and reliable power. You pull the lever, they go. It is really that simple.
Almost immediately after you start using a cordless mower, you will wonder why you ever used anything else. (I actually feel the same way about my electric car, but that is another story.)
Easy Storage
Since electric mowers do not have gas and oil to worry about, you can store them in many configurations. This leaves room in your shed or garage for more important things.
I am always amazed by the number of houses that have garages that become storage sheds and are not used for your expense (or even not so expensive) car. Every house I have bought has a garage. And job one after the purchase has been to install proper storage racks and a garage door opener.
Pleasant to Use
I can overemphasize how pleasant it is to switch from a gas mower to a cordless electric mower. They run clean. Are reliable and trouble-free. Make less noise. And really deliver a great-looking lawn.
They are not right for all lawns. Especially as you get beyond 1 acre you will probably want to still consider a gas-powered mower. At that point, you are probably looking at a lawn tracker anyway. Although there are battery-operated lawn tractors available, they really have not yet gone mainstream.
We are a professional reader-supported review site. You get our best product recommendations and we can receive small commissions from our affiliates at no cost to you. Win-Win!!
Top 3 Best Cordless Lawn Mower Reivews
Here are 3 of the best cordless electric lawnmowers to get you started. I have selected what I see as the best from 3 different sizes.
Greenworks G-MAX 40V 16'' Cordless Lawn Mower with 4Ah Battery
This is a great mower for a smaller lawn. It has been out for almost a decade and has really stood up well as a reliable performer. If you have a yard less than 1/2 acre, this would be an excellent choice.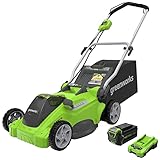 Greenworks 40V 16" Cordless Electric Lawn Mower, 4.0Ah Battery and Charger Included
CORDLESS LAWN MOWER – Get more done, faster, with Greenworks electric lawn mowers. This 40v push lawn mower provides the power you need with up to 45 minutes of runtime on a fully charged 4.0Ah battery. The battery completely charges in 120 minutes.Brushless motor : No
LIGHTWEIGHT, EASY TO USE – A lightweight 16" cutting deck allows for easy maneuvering through small to medium yards (up to ½ acre) more efficiently. Easy push button start and lighter weight make it a great choice for your lawn.
VERSATILE – Battery powered lawn mower has a single lever 5-position height adjustment with a cutting height range from 1-1/4" to 3-3/8" for the best cut in all environments. The 2-in-1 feature offers versatile use with mulching and rear bagging options.
MAINTENANCE FREE – This walk behind lawn mower is virtually maintenance free, with no gas, no oil and no emissions. It starts instantly and is quiet but delivers gas-like power for your toughest projects.
INCLUDES – Battery operated lawn mower comes with mower, grass collection bag, 40V 4.0Ah battery, charger and operators manual. It offers a 3 year tool and 3 year battery warranty.
*Price from:  2023-09-29 at 00:53 EST
This mower does have a 16″ cutting size which is on the small size. If you have a large yard or what to get done quicker, you might do well to move up to its larger brother at 20″.
This mower has a 45 minute runtime and comes with 5 cut height positions. I think the 45 minutes of runtime is a bit optimistic. You may be able to get this if have a flat yard and cut very frequently.
This Makita is a much more industrial-strength unit than the GreenWorks above. Please note that this mower comes with 4, yes FOUR, 18V batteries. It will use 2 batteries at a time for a net 32V of power. These batteries are interchangeable in the full line of Makita battery-powered tools and devices.
*Price from:  2023-09-29 at 01:59 EST
It is the addition of the extra batteries that make this specific selection more expensive. You can get it in other configurations depending on your needs.
Okay, this mower is really just for very small yards. But I wanted to include it because of the price/value ration. Sun Joe has really tried to push the value of electric devices. This mower shows that if you have a small yard, you do not have to pay very much to get into a good cordless mower.
Currently on Sale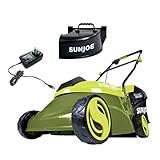 *Price from:  2023-09-29 at 01:59 EST
This is an INEXPENSIVE unit. Don't expect too much. The cut height is adjusted by manually moving the wheel axles. There are no removeable batteries, you just plug in an adapter. And, it will take a while to fully charge.
This unit shows that you can get into a cordless mower at a very low price. If you have anything more than a small yard, this will NOT be the unit for you. But, if you have a small yard and want a very good, functional, and lightweight cordless mower, this one will serve you well.