Technology just keeps getting more advanced. Cars are driving themselves and so can lawn mowers. Read below about the latest trends and let us help you find the best robotic lawn mower that exists today.
These phenomenal devices are not cheap, but just imagine the time savings that they give. As I investigated the history of these automated mowing machines, I was amazed to learn that they were first patented in 1969.
All the robot lawn mowers we reviewed had some basic features in common. They change the way you care for your lawn. Rather than mowing when the grass gets too high, the robots are designed for continual lawn care.
The will run several times a week during the growing season. This makes their job easier so they do not have to worry about cutting long grass. This also makes them more reliable. They drop short pieces of cut grass into your yard for nourishment.
They will NOT mow your yard in an organized pattern. Rather, just like the indoor vacuums, they will wander randomly around your yard. With the frequent mowing, they will be able to visit all areas of your lawn and keep it look sharp.
If you are someone who likes to see nice mowing patterns at the end of a mowing session, then these will not work well for you. The combination of frequent mowing sessions and random pattern will keep you lawn looking uniform throughout the year.
Reliability of Robotic Mowers
They all have a base station to which they return after each cutting session. They will charge and be ready to work again. The base station will be along the laid out perimeter, in the shade, and will power available.
You lawn will really determine how successful your robotic mower will be. A flat yard few obstructions will certainly be best. Also, it seem that the boundary wire will need to be installed at a nearly flat area.
These mowers run very slowly, like 1 mph. Since they are all designed to run unaccompanied this will work out fine. Just do not expect really quick work of you yard.
Before you can use your robotic mower, you will set up a wire boundary that will define the area that the mower will stay within. This is much like a dog fence. The wire and attachment stakes are included. I'd suggest using a manual edger to set the wire into the ground where you will not need to worry about it again.
Lots of advanced features are included
These are pretty high tech devices and pretty costly as well.
Communication
Most of these mowers directly communicate with an app so you can keep track of their progress. They may have WiFi, Bluetooth, or Cellular connections. Or, in the case of one unit, no communication at all.
Some are also GPS enabled so you can know if they have gone missing.
These mowers have logic to try to get themselves out of tight situations. They will back up and spin as they try to get free. Occasionally though, they will get stuck. At that point, they will shut down and notify you of their problems.
Mowing Pattern
Most of the mowers to designed to run fairly frequently to keep your yard always nicely manicured. They run a random pattern that over time statistically covers your whole yard.
It may not seem like a random patter will work, but it does.
Mower Specifications
Runtime: These are battery-driven mowers and will have the clean running benefits of all battery mowers. The size of the battery will determine the runtime and size of the yard that they can adequately handle.
Maximum Incline: The mower designs allow for different levels of hilly yard handling. The less expensive models will do better on a flat yard and the more expensive ones are listed to handle up to 24 degrees of incline. 24 degrees is a steep slope!
Safety: The mowers are designed to stop the blade if picked up or the wheels otherwise are not in contact with the ground. You should not have to worry too much about safety. I assume that cats will stay away and dogs will learn to ignore the mowers.
Other considerations
If you do have dogs, you probably have fences. These are going to be a bit problematic for your mower. If you just want to mow the enclosed area, you will be fine. But, if you have an enclosed rear yard and open front yard, you will have to arrange to get the mower into the front yard because it will not be able to open the fence gate.
Also, dog poop can be a bit of a messy problem. The mower is not going to avoid the "doggy dirt" and it is going to get all over things. It is highly recommend that you pick up before turning the robot loose.
We are a professional reader-supported review site. You get our best product recommendations and we can receive small commissions from our affiliates at no cost to you. Win-Win!!
Current Top Selling Robot Lawn Mowers
*Price from:  2023-09-29 at 00:53 EST
*Price from:  2023-09-29 at 12:04 EST
You will be the talk of your street with your automated lawn mowing machine. They have taken all the lessons from the years of development of indoor robotic vaccuum cleaners and applied it to the outdoors. This required creating a very smart and robust product.
You will need to do a little setup once your "Landroid Robotic Lawn Mower" arrives. You will outline the perimeter of you lawn with the included boundary wire and setup the base/recharging station. Once it is fully charged, it will be ready to go.
WORX Landroid M 20V Power Share Robotic Lawn Mower 1/4 Acre / 10,890 Sq.Ft Power Share- WR140(Battery & Charger Included)
[FULLY AUTOMATED] The Landroid M cuts lawns up to ¼ acre all by itself. Just set the charging base, lay down the boundary wire, measure your lawn with the app, and let it mow
[WI-FI & APP CONTROLLED] There are many things you can do from the Landroid app: measure your lawn, check mowing progress, keep software up to date, update your mowing schedule and more
[SAME BATTERY, EXPANDABLE POWER] The same battery powers over 75+ 20V, 40V, and 80V lifestyle, garden, and power tools in the Power Share family
[NAVIGATES NARROW PATHS] Patented AIA technology allows Landroid to navigate narrow passageways too difficult for ordinary robotic mowers
[CUSTOMIZED MOWING SCHDULES] Have Landroid mow every day, every other day, it can even recommend an auto schedule based on your yard's size and conditions
*Price from:  2023-09-29 at 00:53 EST
We like that the electric mower is quiet and cuts very close to obstacles. You will still need to do some touch up from time-to-time, but your lawn will stay looking well kept. ✔️ Let's get it NOW!
This is the smallest of the Husqvarna "Automowers" and we are impressed. Its large wheels and tight turning circle make quick work of your lawn.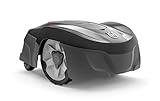 Husqvarna Automower® 115H Robotic Lawn Mower (Bluetooth)
Husqvarna Automower 115H Robotic Lawn Mower uses smart technology from the world leader in robotic mowing(1) so you can have a beautifully cut lawn 24/7 at the touch of a button
Easy Control From Smartphone: Husqvarna's smart technology lets you control scheduling, adjust settings, and start and stop your automatic lawn mower from your smartphone
DIY Installation: Set up your Husqvarna robot mower with the self-installation kit (included); place the charging station, bury or lay the boundary wire around the perimeter of your yard, install the guide wire, choose your settings, and start mowing
Theft Protection: To reduce the risk of theft, the automatic mower is equipped with a built-in alarm system that will sound if it is lifted and is only deactivated with your unique PIN code
All Lawns and Weather: The compact robotic mower is weatherproof and can navigate narrow passages, objects and 17-degree slopes with a cut width of 8.7 inches and an area capacity of 720 square feet per hour, making it perfect for lawns of up to 0.4 acre
*Price from:  2023-09-29 at 00:53 EST
They designed the large wheels to be closer to the center of the mower. This makes it able to handle uneven lawns more easily.
Husqvarna has been becoming very popular across many tool segments because of their attention to product quality. They have several models to choose from with the larger ones having the ability to handle larger lawns. As a company, they seem to be the leaders in robotic mowers. ✔️ I'm sold, let's get it!
The mower is a bit more expensive than the two above but has received high praise from its owners. Unlike the other mowers which avoid the rain, the Gardena Robotic Lawnmower is designed to work even in the rain.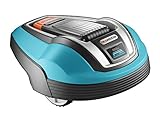 Gardena 4069 R80Li Robotic Lawnmower
Cutting Height of .7" to 2" (2 to 5 cm) can be easily set with a rotary knob. Different mowing times or days can be set on a large selection panel and display
Excellent cutting results, works during rain, Anti theft protection, low noise, emission free
Robotic lawnmower perfect for all garden types. Autonomous, quiet, energy efficient and emission free!
Easy to use, easy to install, easy to maintain. Perfectly safe and perfectly customizable!
Easy to Place Boundary wire shows mower where to mow
*Price from:  2023-09-29 at 00:53 EST
This mower is quicker to set up because you do all the setup on the mower itself. There is no app to need to install and learn. ✔️ Show me more!