While there may be plenty of homeowners who prefer the comfort and ease of an electric trimmer. The best gas weed eater, also known as a gas powered trimmer, still have certain benefits that the electric trimmers just can't compete with.
In our guide, we'll be taking a look at some of the best gas weed eater models and providing you with all of the tips and suggestions you need in order to purchase the right one.
With the help of our detailed reviews and the fact that we've done all of the research for you, choosing one will be much easier.
You'll be out there whacking away at those weeds in no time!
Weed Eater – a Brand and a General Term
One thing we wanted to point out quickly before you head down to check out the trimmers is the fact that the words "weed eater" are used in two different ways.
Weed Eater Brand. Weed Eater is actually a brand name. You'll notice that Weed Eater still makes popular weed wackers, or weed trimmers, or string trimmers as they are more generally known. It's just that they no longer dominate the category of the best gas weed wacker like they once did.
Weed Eater Term. Just like most of us call bandages "Band-Aids," many of us also end up calling trimmers "weed eaters" or "weed whackers."
This is a minor detail but one that we wanted to mention in order to avoid any confusion! We will use these terms interchangeably, but it is easy to understand based on the context.
We are a professional reader-supported review site. You get our best product recommendations and we can receive small commissions from our affiliates at no cost to you. Win-Win!!
How to Choose the Right Gas-Powered Trimmer
Not sure where to begin your search? We recommend you take the following points into consideration to choose the best gas weed eater for your needs.
Straight Shaft or Curved Shaft. You'll notice as you shop that there are both straight shaft models and those with a curved shaft. So, what's the difference?
Straight Shaft
Without a curve, the shaft is naturally longer and these types of trimmers offer better balance when you handle them. The slight length increase also allows you to reach under objects easier and they usually have more attachments available.
Curved Shaft
These can be easier to maneuver than straight-shafted trimmers and are usually lighter. If you have a bad back, this is the best gas weed eater for you. These units generally allow you to work in a more straight up manner.
If this is your first time purchasing a weed whacker, then start with a curved shaft model. Or at least give them some good consideration. Most likely though, you will adapt to the shaft style you first purchase.
Engine Cycles. When it comes to the amount of power that the engine offers you, you'll notice that gas trimmers come in either 2-cycle or 4-cycle engines.
2-Cycle
These run on a mixture of oil and fuel. They require a bit more prep work. You have to mix the oil and fuel yourself to the proper ratio. Although they are smaller, they are still designed to offer you quite a bit of power. The engines run at a higher RPM (revolutions per minute) to get more horsepower from the same weight.
These are generally smaller and less expensive and probably best for the typical homeowner's needs (edging around walkways, flowerbeds, etc.). Although, unless you really need the power or portability of a Gas Weed Eater you will probably happier with a cordless weed eater.
4-Cycle
Also known as "4-stroke," these are usually "quieter" than the 2-cycle trimmers and no mixing is required before you use them. Just add the fuel to the designated fuel tank, the oil to its designated tank and then power it up.
Since these are more powerful (and heavier) than the 2-cycle trimmers, you can plow down larger, thicker patches of weeds with them.
Top 3 Best Gas Weed Eater Reviews
Currently on Sale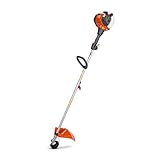 Husqvarna 128LD Gas String Trimmer, 28-cc 2-Cycle, 17-Inch Straight Shaft Gas Weed Eater with Detachable Shaft for Easy Transport and Storage
Husqvarna 128LD Straight Shaft Gas String Trimmer is a great multipurpose weed wacker with a 17-inch cutting width and a powerful 28-cc engine to let you power through yard work.Maximum power speed : 8000 rpm
T25 Trimmer Head: Gas powered weed wacker is equipped with strong, braided trimmer line and a T25 semi-automatic weed trimmer head that's designed for simple and easy line reloading
Smart Start and Air Purge: Smart Start technology reduces starter cord resistance by 40% to allow for easy engine starts, while Air Purge removes air from the carburetor and fuel system for additional easy starting
Effortless Start-Up: Automatic stop switch automatically resets these string trimmers to the "on" position to streamline the start-up process
Versatile and Easy to Store: This grass trimmer is compatible with select click-on attachments to cover the job of a variety of lawn care equipment, plus it features a detachable shaft for easy transport and storage
*Price from:  2023-09-29 at 10:47 EST
This trimmer from Husqvarna is pricey. But if you're looking for a reliable easy starting machine it is worth the investment. It will last a very long time and can handle all the weeds you put in front of it.
As we mentioned earlier, the 2-cycle engine requires you to mix up oil and fuel prior to adding it to the trimmer. This is a bit of a drawback in my opinion.
The nice thing about this trimmer is Husqvarna's SmartStart technology that makes it easy to start even if you don't know much about engines and trimmers.
Those of you with experience using gas trimmers will probably appreciate this one the most. ✔️ Let's get it NOW!
If you are new to trimmers and prefer something a little smaller, then we suggest you check out number 3.

No products found.
This is a large engine Weed Eater that has 2 cutting heads. It can be used as a standard string trimmer or install the 3-T metal blades for a serious cutting machine that can even take down larger brush and even small trees!
No products found.
The 2-cycle engine on this at 51.7cc is a bit larger than the engine on my first motorized scooter. It has an easy pull starter, translucent gas tank, and snap on/off air filter for easy use.
You will operate this we ease because the extra weight, 18 pounds, is perfectly balanced on an adjustable shoulder harness. And the head movement is controlled by a wide-set handlebar. This handlebar is ergonomically set up to keep your wrists at a neutral position and allows you to work without bending over.
If you are purchasing this unit, you probably have serious work to do and have had experience with these larger units. If it is your first time using a device of this size, make sure you take the time to get the shoulder harness and balance point adjusted to your working style.
Great for serious trimming needs but not for everyone. If you want a more affordable machine for smaller jobs, check out the next trimmer. No products found.

No products found.
No products found.
First time gas-powered trimmer users will probably opt for the Ryobi thanks to the affordability. It won't burn a hole in your pocket and it's comfortable on the back!
This runs on a full crankshaft to help increase the longevity of the trimmer. It features a bump-feed string head for quicker line reload, and the 3-step ZipStart carburetor makes it easier to start.
The shaft length is a bit shorter than some of the other trimmers (only 49 inches), but that's only because it is curved.
For edging your lawns and trimming around flowerbeds, we'd say this is an excellent gas-powered trimmer model. No products found.