The best way to achieve a more luscious, green lawn or a more bountiful vegetable garden is with a little bit of fertilizer. We have examined the best fertilizer spreaders and describe their characteristics here.
Whether you prefer to use granules, liquid fertilizer, or something that the barnyard animals created, you have many options in front of you when it comes to plant nourishment.
Not sure which unit to choose? Our gardening experts are here to make your search for the best fertilizer spreader walk in the park.
Join us as we highlight the top models that they trust and to see their detailed reviews of the top three models.
Broadcast Spreaders Come in Different Styles
When it comes to dispersing dry fertilizer granules, you have a few different options.
Your best bet is to go with a broadcast spreader, also known as a "rotary spreader." In these units, the granules are dispersed from a spinner wheel and spread out into your lawn or garden. The amount of fertilizer released is easily regulated in all of these spreaders. So, you don't have to worry about choosing a model based on the flow quantity.
You can choose from handheld, walk behind, or tow behind models.
Handheld. You'll find handheld spreaders that come in various sizes.
You can choose between larger handheld units that you would use for fertilizing a lawn or a smaller spreader that you can also use for seeding and disperse salt on slippery surfaces in the winter months.
There is more control with the handheld units and, since there are no wheels, you don't have to worry about running over any healthy plants or vegetation. You control where you walk and where you sprinkle the fertilizer. Be careful though because large handheld units are often unbalanced and will put a strain on your wrist. If you only have a small space to fertilize this will not be a problem. But for a larger lawn, definitely go with a wheeled model.
Walk Behind. Many homeowners find the classic walk behind models to meet their average lawn care and gardening needs.
These are most useful if you have a medium-sized lawn or area to fertilize and in areas where it is safe for you to roll the spreader over the surface without damaging anything.
Tow Behind. If you already have a riding lawn mower and you have a large area to fertilize, then the best solution is to purchase a tow behind model so that you can cover more ground in a shorter amount of time.
What About Dispersing Liquid Fertilizers?
The most common types of fertilizers are for granules, but we did include one option for liquid dispensers. It is mostly a matter of preference if you prefer to use liquid or granular fertilizer. Either way, you'll want the best spreader available to make the job quick and easy.
Chapin International All Purpose Hose-End Sprayer
A simple unit like this is attached directly to your hose and allows you to spray your fertilizer on plants or grass.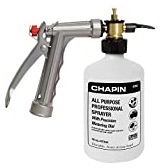 Sample Dry Fertilizer Spreaders
Solo 20-Pound Capacity Portable Spreader
One of the nice things about this handy spreader from Solo is that you can use it to fertilize your lawn and garden in the warm months. And then use it to spread deicer in the winter. It is always nice to have a multiple purpose tool. Many homeowners appreciate a versatile object in the tool shed. We consider this to be one of the best fertilizer spreaders on the list.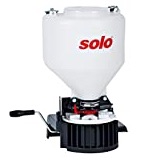 The hopper, which is the tank where the fertilizer is added, can accommodate up to 20 pounds of fertilizer granules. The fertilizer spreader has a crank arm that you turn when to spread the fertilizer. The faster you turn, the greater the distribution area.
What we liked about this unit is the fact that you can sling it over one shoulder as you walk. This helps distribute the weight load and makes it easier for you to finish lengthy fertilizer run without stopping for a break.
You'll see on that just above the dispenser, there is a little lever that allows you to dictate which direction the fertilizer shoots out. Also, using the flow rate control, you can choose how much fertilizer it dispenses.
A few things we have to say about this to the potential buyer. This spreader requires a bit of physical strength since you'll be carrying it on your shoulder. For some, we know that lugging around 20 pounds of product isn't possible.
We also wouldn't recommend this type of unit for large medium or large lawns simply because a push model would allow you to disperse granules more accurately.
Overall, we found it to be most useful for small lawns, flower beds, shrubs, and other small areas that you want to fertilize. Remember that it also works great as a salt dispenser in the winter!
Scotts Wizz Hand-Held Spreader
If you needed something a little bit more lightweight than the Solo, try Scotts' Wizz Spreader that can handle up to 2,500 square feet of lawn areas.
We like how this spreader (compared to the Solo) is crankless. No handle to that you have to turn. It is battery-powered!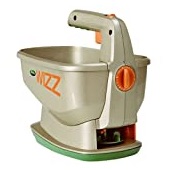 As Scotts reminds you, this unit is not only good for spreading fertilizer, but also for spreading seed, weed and feed, as well as a deicer in the cold weather.
When you turn it on, you will be surprised at how accurately it spreads the fertilizer. You will love how lightweight it is. Of course, it can't handle as much fertilizer as the previous product. But if you didn't want to lug around a 20-pound unit, this is a great compromise.
We are surprised to see how affordable it is compared to some of the other manual units. While it may not be the best solution for every homeowner, those with a smaller area to fertilize will appreciate its convenience and affordable price tag.
Scotts Turf Builder EdgeGuard
Our favorite walk-behind model was from Scotts because of the quality and affordability. These are so popular you might even find some used ones.
The capacity of the hopper on this bad boy is huge. It can accommodate a whopping 50 pounds of fertilizer granules, and all you have to do is push it. You don't have to carry it or sling it over the shoulder.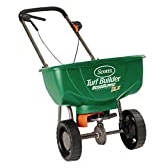 The tires make it seem more like a mini go-kart with their large circumference and thick tread pattern.
What we noticed: If you get a quality unit and everything assembles perfectly, you won't be disappointed. Some products, on the other hand, seem to be a bit out of line when you put them together. This is frustrating as a consumer since it takes longer to assemble and can be frustrating.
Overall regarding performance and quality, we still wouldn't hesitate to recommend it as one of the best fertilizer spreader models on our list!
It also comes in some smaller and larger sizes to perfectly match your yard. And if you want precision control, you can select the drop spreader. Drop spreaders give the most precise distribution of fertilizer.