If you're as sick of raking leaves as we are, then perhaps a new lawn sweeper is in your near future.
Lawn sweepers are truly time-saving and back-saving devices that make leaf pickup quick and painless, but we had a little trouble finding a good one when we set out searching and figured you might encounter the same problems as we did.
To make your search easier, we will highlight the best lawn sweeper models in our guide below and provide you with a few useful shopping tips that we picked up along the way.
Types of Lawn Sweepers – Tow or Push?
You have two main options when it comes to the type of lawn sweeper you can purchase: one that is towed or one that is pushed.
Tow. These hook up behind your lawn tractor, so all you need to do is attach and drive. Naturally, this is the most convenient choice and requires less energy on your behalf, but if you don't have a lawn tractor, then your only other option is a manual push sweeper.
Push. With this type of lawn sweeper, you're the power behind the handlebar. These are almost all manually powered. As you push the sweeper, a big brush turns to sweep up leaves and other lawn items.
The cleaning path is much narrower on a push sweeper than a tow sweeper, and the bag is usually smaller.
While they are much more affordable and faster than manual raking, we still think the best lawn sweeper is a tow unit simply because it is more convenient.
Think About Bag Capacity
If you have a lot of leaves to pick up, then a larger bag makes much more sense so that you don't have to stop and empty as often.
A large tow unit in a smaller yard, however, is overkill. So just stick with a smaller push unit to pick up the leaves you do have.
Take your specific yard debris into consideration as you shop, as well. Some sweepers can't handle the larger twigs and branches, as well as others, can.
Choosing a Lawn Sweeper
The only way to determine which is the best lawn sweeper for your leaf-cleaning needs is by trying one; however, these are some of the top sweepers for those who have a lawn tractor.
If you don't have a lawn tractor and your only choice is a push model, then we highly recommend that you check out the Agri-Fab Push Lawn Sweeper. You can see more details on this unit at the bottom of this page.
Example tow sweeper: Agri-Fab
We loved this lawn sweeper model from Agri-Fab and highly recommend it to any of you who are interested in purchasing a tow unit.
For starters, the mesh hopper (bag) is huge – 25 cubic feet –and you can even offset the hitch to sweep and mow at the same time. Most other units don't have this feature, and there's no need to tell you how much time you'll save by killing two birds with one stone!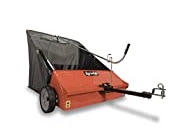 We really liked the one-hand empty feature and how you can easily adjust the brush height settings to help you pick up debris closer to or farther away from the lawn.
This sweeper has a 5-1 gear ratio so the sweeping brush turns 5 times for each turn of the wheels. It is easily assembled with no tools required. The polls are pretty hefty and we had a bit of a hard time pushing one of them together. This just shows the tight tolerances and we do not see it as a problem. Once together, the polls are very sturdy and we do not expect to have any problems.
If you're in need of a large sweeper for a giant yard, Agri-Fab's 45-inch model is awesome.
Push Type Law Sweeper
I grew up using a push lawn sweeper. We had lots of big oak and other trees in the yard and Fall was a blast. We would use the sweep during the Fall as the leaves were dropping. It took a bit of work pushing it around, but we would create a huge pile of leaves for the kids to play in.
Even the big kids (me!) enjoyed playing. Very fond memories, and yearly pictures to look back on. I hope your leaf sweeper serves you as well.
For that purposed we have selected only the best available push lawn sweeper.
Typical Push Type Sweeper: Earthwise
This yard sweeper is only 21 inches wide, so these are much smaller than the pull behind type. This will mean more passes to pick up the leaves, but I assume you are looking at a smaller unit because you have a smaller yard.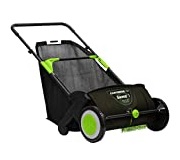 This sweeper is well built and has adjustable sweeping height. You cannot pick up nuts like acorns or other small items because the brushes are optimized for picking up leaves. This also makes the unit much easier to push than it would otherwise be.
The sweep is smaller, but this has its advantages as well. Much easier to direct around your yard and can easily be picked up and hung for storage when not needed.
We think you can get many years of great service from this sweeper and hope your kids enjoy the Fall as much as I do.