One of the key steps in maintaining a healthy and beautiful lawn is proper watering. Your goal should be to water-smart, not hard. To avoid back-breaking work, reap the benefits of buying the best lawn sprinkler.
You'll want to select the best lawn sprinkler for your needs, and that will depend on several factors such as the size and shape of your lawn, soil conditions, and type of grass and plants. Fortunately, there are many style options available.
To help you in your quest for the best water sprinkler, we have carefully researched and put together this comprehensive buying guide. All you need to know can be found here.
Buying Information
Lawn sprinklers aren't a "one size fits all" product. As mentioned previously, you'll want to take into consideration your needs before purchase, but you also want to educate yourself on the various types of sprinklers. Let's take a look at the most common styles:
Oscillating. These have a back and forth movement that creates a waterfall spray pattern; they provide coverage that is even and work well with medium to large areas.
Fixed. Stationary sprinklers that create a single spray over a specific area; usually the most budget-friendly and work well in small areas.
Traveling. These sprinklers will travel as far as your hose will reach; varying spray patterns are usually an option, and they work nicely for large areas or on uneven yards.
Impact. This type of sprinkler has a circular rotation and produces a single water jet. It is wind-resistant and is nicely suited for large yards.
In-Ground. A sprinkler system installed into the ground. This option usually has features such as a timer and zone programming and will work in any size area.
Rotating. With two or more arms, these sprinklers spin and emit water in a circular motion. Best suited for medium size areas.
Having familiarized yourself with the more common styles, let's discuss features. Some lawn sprinklers are quite basic, however; you can find sprinklers that offer convenient features, such as:
Automatic Shut-Off. Look for this feature if you are purchasing a traveling sprinkler. This is a water-saving mechanism that will shut off the sprinkler once it has completed a pattern or cycle.
Flow Timer. This is a water-saving element giving you control over the amount of water used during a cycle. It monitors the amount of water used and stops at the set amount
Automatic Timer. This feature allows you to set a specific time for your sprinkler to turn on and off; this is especially helpful if you live in an area with watering restrictions.
Sample of Lawn Sprinkler Types
Orbit Traveling Sprinkler
The Orbit Traveling Sprinkler has replaced the good old Nelson Rain Train as the best traveling sprinkler. Seems it has equal quality at a better price making many people happy.
Water propels it from your hose. With three speeds, you're able to control the amount of water used on your yard. It can travel up to 200 feet and can cover up to 13,500 square feet.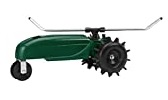 This sprinkler has a durable cast-iron body and chip-resistant paint. The spray arms are made of aluminum and are adjustable providing a spray range from 15 to 55 feet in diameter. The speed settings are: fast, slow, and neutral (medium) to control the watering level by crawling at different speeds. All settings are self-propelled.
As with any product, there are a couple of drawbacks to consider. The cast-iron body makes this sprinkler a bit heavy and cumbersome. Also, it will take some work to get the spray set to the desired area. Expect a bit of trial and error initially.
Overall, this is an outstanding option for a large and irregular (uneven) lawn. It is priced reasonably and the automatic shut-off feature is quite convenient. It also stands up well to the elements so if left outside, you can expect it to stay in good shape. And there is something just satisfying about watching it crawl across your lawn!
Melnor MiniMax Oscillating Sprinkler
The Melnor 65003 is a metal sprinkler that can cover up to 4000 square feet. The width control is an easy one-touch design; the base is made of sturdy aluminum, it is clog-resistant and features a motor that is turbo driven.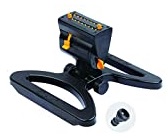 One of the most important features of this sprinkler is its water pressure adjustment: this allows the control of the output of water and the water height. This sprinkler requires a bit of time to learn how to use it properly. The water pressure adjustment is a bit tricky to get set up just right for your lawn.
The sprinkler is affordable and is solidly built. The metal base has a protective coating to prevent erosion, oscillates well, and because it's easy to relocate, you'll have no trouble using this on your lawn or in a garden. It's a great option for those who prefer a relatively basic lawn sprinkler.
Raigro 360 Degree Pulsating Sprinkler
The Raigro 360 Degree Pulsating Lawn and Garden Sprinkler has an all-metal head and waters a circle up to 85 feet in diameter. Let's see that is Pi*R² = over 22,000 square feet of coverage. If you have enough water pressure, this guy will deliver the water.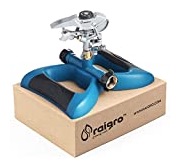 You don't need to think of this as just being for large yards though. You can screw in the diffuser pin that creates more diversified stream of water.
The weighted base gives the sprinkler stability and control. The metal head is rust-proof and built to last. Watching these things water makes me wonder if my Tic-Toc dancing daughter even knows that these pulsating lawn sprinklers created the dance craze.
We selected this specific sprinkler for our best of reviews because not only is it outstanding on its features alone, but also very reasonably priced. This makes it a great value. ✔️ Yes! I want it!