Not all of us have the luxury of making our own fertilizer mixture in the garden compost bin. And others simply don't have the time. We can help you find the best fertilizers for vegetable gardens today.
The good news is that there are plenty of ready-to-use fertilizers for your vegetables that will help yield rich, luscious salad fixings and tasty side dishes.
Navigating your way through all the options can be time-consuming. You can speed things up a bit by checking out the best fertilizer for vegetables below.
We are a professional reader-supported review site. You get our best product recommendations and we can receive small commissions from our affiliates at no cost to you. Win-Win!!
Current Top Selling Fertilizers for Vegetables
*Price from:  2023-09-28 at 13:06 EST
How to Choose a Great Vegetable Fertilizer
There are a few terms to keep an eye out for as you are comparing and contrasting labels. Make sure you double-check the bag or bottle to understand what you're purchasing.
OMRI Listed. OMRI stands for "Organic Materials Review Institute." It is their job to verify that the products going into plants and livestock care products comply with organic standards.
If you are interested in a truly organic vegetable garden, then make sure you see the "OMRI Listed" logo on the label.
Feeding Release Speed. Unless you prefer to keep a close watch over your veggies by applying fertilizer on a regular basis, the most convenient choice is to opt for a slow-release food.
These are usually granules that break down gradually over time, but some come in the form of powders like the Seagate Products Fish Fertilizer Concentrate Powder 42 Ounce Jar .
They release nutrients and a rate that is healthier for the plant and surrounding soil.
Coverage Area. Make sure the bag or bottle of fertilizer you purchase is enough to cover your entire vegetable garden.
Liquids like the Miracle-Gro LiquaFeed hook up to your hose and allow you to spray your plants and vegetables, offering you a wider range of coverage that is also quicker to apply. Just make sure you purchase the special nozzle for your hose to be able to use it.
Granules and powders are easy to spread but do require a bit more time to work into the soil.
Spikes are another quick and easy option since you just push them into the ground.
NPK Analysis. The NPK analysis, such as 14-14-14, listed on fertilizers refers to the amount of Nitrogen, Phosphorous, and Potassium that the mix contains. They are always listed in that order, too, so there will never be any confusion.
Different vegetables prefer different levels of each nutrient. But, most mixtures are formulated for general use with a mixture of vegetables. Do not feel that you need to find a perfect match for your plants. It is much more important to get some fertilizer down and keep an eye on how the plants are doing.
Specific vegetable fertilizers will have levels of each nutrient that are most appropriate for that plant and will tell you what type of vegetable it targets on the label.
Follow Applications Instructions Carefully
If you want to avoid burned leaves, then it is important that you follow the manufacturer's instructions exactly.
We have seen so many gardeners complain of burnt foliage. Yet when we have tried the product and applied it as directed, it is never a problem.
Top 3 Best Fertilizer for Vegetables Reviews
The best fertilizer for vegetables, lawns, and all things green comes from our little wiggly friends beneath the ground: earthworms.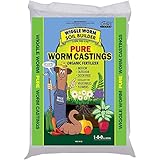 *Price from:  2023-09-28 at 12:50 EST
Earthworm castings (i.e. their dung) contain water-soluble nutrients that come out of the worm in a richer format than they had before going into the worm. The result is plant food gold.
Harvesting castings is quite time-consuming. So, spend a little extra to have the work done for you. A product like this is worth your money.
These castings are especially helpful in areas where worms are few and far between and having started application early on in the growing season; the results were truly amazing. Very clearly this is one of the best fertilizers for vegetables.
Bigger fruit, healthier plants, and more abundant veggies. ✔️ Let's get it NOW!
The Dr. Earth Organic Vegetable and Herb Fertilizer starts out by releasing nutrients quickly. Then it will continue to feed your plants for the next few months.
Currently on Sale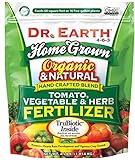 *Price from:  2023-09-28 at 04:43 EST
Since it is free of GMOs, contains no chicken manure, is OMRI Listed, and CDFA-certified, you can trust that you are putting a truly organic product in contact with your vegetable crop.
The mixture of fish meals, seaweed extract, and naturally mined potassium sulfate provides a rich source of nutrients to your vegetable plant roots. Both the "ecto" and "endo" mycorrhizae in the mixture will help make the soil more drought-tolerant.
Whether you live in a dry area or moist area, this is truly a phenomenal fertilizer that every organic gardener needs to try. ✔️ I'm sold!
If you prefer a convenient food that doesn't need to be frequently applied, then Osmocote's formula will nourish plants for up to four months without reapplying.
Currently on Sale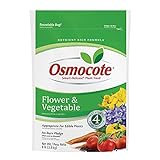 Osmocote Smart-Release Plant Food Flower & Vegetable, 8 lb.
OSMOCOTE'S HIGHEST TOTAL NUTRIENT FORMULA: NPK = 14-14-14. Favored for seasonal vegetables and perennials. Promotes strong roots as well as vigorous and bountiful above-ground growth.
OSMOCOTE'S DIRECTIONS FOR USE: 1 lb. covers 40 sq. ft. (approx. 6½' x 6½'). Mix into 1 – 3" of soil. Applicator included. Apply to vegetable gardens and mulched areas around ornamental trees / shrubs, and raised beds.
OSMOCOTE QUALITY: Osmocote is the original slow-release plant food. Decades of rigorous field testing confirm product effectiveness with hundreds of plant species in a variety of climate and soil conditions.
OSMOCOTE'S SECRET: Soil temperature controls how Osmocote releases its nutrients, and importantly how nutrients are taken up by the plant. Replenishment and feeding are in natural harmony.
OSMOCOTE IS MISTAKE-PROOF: Even if over-applied up to 3x the recommended rate, Osmocote does not 'burn' the plant.
*Price from:  2023-09-28 at 13:06 EST
The sooner you apply this to your soil in the growing season the better. It will give a noticeable boost to plant development if you do.
Another reason we like it is that it works great on potted plants, too, making it a diverse fertilizer to have in the garden shed.
While this isn't an organic fertilizer like Dr. Earth is, we were still impressed with the results. We recommend trying it if the other products do not meet your needs. ✔️ Yes! I want it!