We're guessing that since you're on the hunt for the best leaf rake, the ones you've used in the past have failed you miserably.
Cheap materials, inefficient leaf pick up, short handles or rust problems: sound familiar?
We've faced the same leaf rake problems a time or two ourselves, and in order to help you find one that is actually worth the investment, we'll share our favorite options for you here in our guide.
The small details make a big difference in the overall quality and durability of the rake, so we'll take a look at this information, as well, as we walk you through the buying process.
Things to Consider Before You Choose
As you compare and contrast the great options we highlight in our table, here are a few things you should ask yourself in order to ensure that you're choosing the right one:
Rake Head Width. Expandable or retractable rake heads are great if you have a variety of spaces you need to cleanout. Think about how great it is when you can rake up a wider area of leaves in the main lawn and then shrink the rake head just a bit in order to reach in between your plants in the flowerbeds.
Wider is better if you're raking over grass, but narrower heads are better if you have a lot of tight spaces to clean.
Material. Remember that plastic, while light in weight, is definitely the flimsiest of the materials. Only purchase a plastic long handle rake if you plan to use it on leaves only.
For all other larger, heavier debris, be sure to opt for a steal rake head.
Handle Length. If you plan to use a standard rake with a long handle, make sure you know the length of the handle.
One of the biggest mistakes that buyers make is choosing a rake that is too short for their height, which will make leaf raking quite uncomfortable on the back and shoulders.
Measure twice, purchase once!
Tine Width. If you are strictly using the rake to pick up leaves, thinner tines are fine; however, if you know that you'll pass over heavier or larger debris, it's best to get a rake with wider, sturdier tines just like number 3 in our table.
Top 3 Best Leaf Rake Reviews
ReLeaf wins the title of best leaf rake on our list by a mile.
These specially designed handheld rakes make transferring the leaves from pile to bin so much quicker and easier than trying to juggle around two long handle rakes.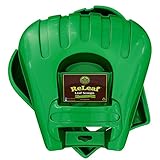 ReLeaf Leaf Scoops: Ergonomic, Large Hand Held Rakes for Fast Leaf & Lawn Grass Removal
✅ LIFETIME QUALITY GUARANTEE – Hassle Free "Return & Replace".
✅ OVERSIZE LEAF CLAWS – The Releaf Closed Design gets the job done fast, grass or leaves wet or dry, rake with minimal fuss or spills.
✅ PROTECTION – A barrier from stinging nettles rosebushes and weeds.
✅ INTELLIGENT UNCOMPLICATED STORAGE – Easy hang and fit together design. Store beside your garden bags.
✅ OTHER USES – An extra sized hand for fruit picking spreading mulch feeding leaf shredders hygienic pet mess clean up tool gather toys fast after kids playtime.
*Price from:  2023-09-29 at 00:53 EST
You just slip them on like a pair of gloves and start picking up the leaves! Since the head is closed (there are no individual tines that leaves can fall through), these act like a handy scoop that allows you to sandwich the leaves between them.
Some find that it would have been better if the tips of the rake had individual teeth to help pick up smaller debris (these are flat and dull on the edges, as you can see in the photo), but overall, they're still a great addition to the tool shed for those of you with quite a few leaves to remove every year.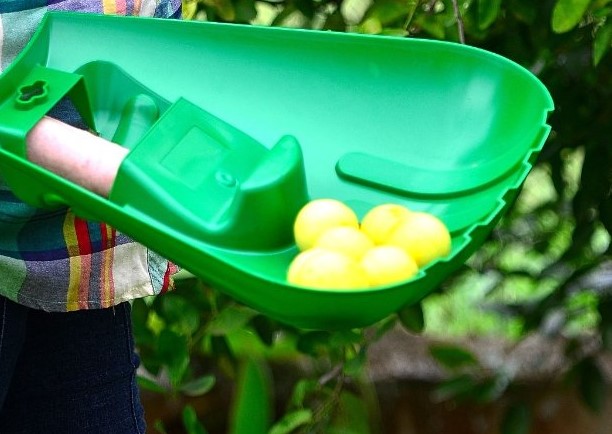 Since you will actually need these in addition to a regular long handle rake, we suggest that you take a look at the next two options on our list. ✔️ Let's get it NOW!
We find these expanding leaf rakes to be the most versatile option on our list, and the fact that you can widen the head or make it narrower makes it great for any gardener to have.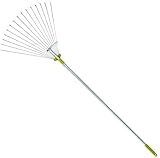 63 Inch Adjustable Garden Leaf Rake - Expanding Metal Rake - Adjustable Folding Head from 7 Inch to 22 Inch. Ideal Camp Rake
✅ 63 Inches Long. Similar rakes on Amazon are only 48 inches long. The adjustable head expands From 7 Inches to 22 Inches
✅ 15 Flat Tine Expandable Head. Adjust the rake width to a tiny 7 inchs for tight areas. This rake is designed to go in smaller areas that are difficult for conventional rakes. Expands to a full 22 inches.
✅ 3/4 Inch Zinc Plated Steel Handle that is zinc coated to prevent rust.
✅ Very light weight and easy to use, the rake is an ideal leaf rake. Note that it is not designed to be a heavy duty rake for rocks and heavy materials.
✅ 100% CUSTOMER SATISFACTION GUARANTEE - Order with confidence! The Gardenite 100% customer satisfaction guarantee means exactly that. We will fix any problems quickly and to your 100% satisfaction every time! We are always available to help our customers. Our customer service record is unmatched!
*Price from:  2023-09-29 at 00:53 EST
The handle is long (63 inches) with a 15-inch long rake head that can expand from 7 inches all the way up to 22 inches when you'd like to cover larger areas in a shorter amount of time.
Another reason we like this rake is that it is so lightweight and you don't have to worry about the prongs snapping off.
This is the ideal long handle leaf rake but since the prongs are so narrow, you shouldn't use this for heavier yard debris such as rocks or large twigs as you risk bending them. ✔️ I'm sold, let's get it!
Those of you with a mixture of heavy debris and leaves will appreciate a rake with a heavy-duty head like this one. The first thing we noticed was the curved prong tips that help you pick up and scoop the materials toward you better than the previous rake.
Currently on Sale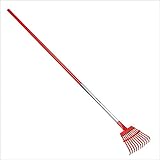 Corona RK 62060 Fixed Tine Shrub Rake, Aluminum Handle, 8-Inch Wide
QUICK CLEANUP: An ideal tool to quickly and easily rake up clippings, leaves, and other lawn and garden debris
EFFICIENT: Bi-curved bow gives even pressure to all tines for maximum raking efficiency
NO DAMAGE: 11 extra-wide tines remove debris without damaging plant feeder roots
COMFORTABLE TO USE: Lightweight aluminum handle with anti-slip vinyl sleeve
*Price from:  2023-09-29 at 00:53 EST
While the head may be more narrow than the Gardenite (11 inches wide), this is ideal for use around shrubs or other plants thanks to the tempered steel tines. The handle is made of aluminum and it is comfortable to grip thanks to the vinyl sleeve.
If you're in need of something much sturdier, then we highly recommend this rake to you. ✔️ Yes! I want it!