If you can't tell what's harder – your concrete patio or the ground in your soon-to-be vegetable garden – then you need to do something quickly. Your vegetables won't stand a chance if they have to fight that kind of soil. So, get the best rear tine tiller and let's get that ground softened up.
What you need is the best rear tine tiller you can find, and our guide can help you do just that.
First, look at some of the best selling rear tine tillers in our table, then keep going down for useful buying information. Finally, check out reviews of our three favorite rear tine tillers.
We are a professional reader-supported review site. You get our best product recommendations and we can receive small commissions from our affiliates at no cost to you. Win-Win!!
What Should I Look for in a Rear Tine Tiller?
When it comes to finding the best rear tine tiller, you need to look at several factors. Without carefully studying your choices you might wind up with a tiller type that isn't suitable for your needs. If you're going to plunk down this much money on a tiller, you want to make sure it handles all your needs.
Here are some of the factors you need to look at when shopping for a rear tine tiller.
Which Way the Tines Rotate
With rear tine tillers, you can get machines that have counter-rotating tines or forward-rotating tines. Here's the difference between those two types.
Counter-Rotating Tines. These tines don't travel in the same direction as the wheels do. They go in reverse from the direction of the wheels. This kind of rotation is great when you're dealing with new, hard ground, or if you expect to hit a lot of packed clay.
Forward-Rotating Tines. With this kind, which is also known as standard, the tines move forward — in the same direction of the wheels. This kind is best for tilling over previously tilled land that's a little looser.
You can also find rear tine tillers that feature both styles of rotation. They are known as dual-rotating tines.
What the Weight Will Be
Tillers aren't light pieces of equipment. They can weigh hundreds of pounds. If the thought of handling equipment that heavy is intimidating for you, you might want to look for one of the lighter models so you'll feel confident that you can handle it.
If the idea of pushing and lugging around a heavy tiller doesn't bother you, you'll be okay to order whichever model you want, regardless of the weight.
What Tilling Depth and Width You Need
You'll want to make sure the tiller you choose matches up with what you need when it comes to how wide you'll till and how deep it will go.
Take a look at the plants you're going to be putting in. You'll be able to find out from the growing instructions how deep you'll have to plant them to give them their best chance of success. Use that guideline to see how deep you'll need your tiller to reach.
Top 3 Best Rear Tine Tiller Reviews
This gas-powered tiller has large treaded wheels that will help move it through rough tilling and muddy conditions. It can be used in both forward and reverse, with a simple pull of a lever. So, if you feel like you didn't turn up the dirt very well on one section of the ground, you can simply back up and try it again. Just that easy.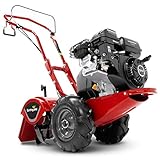 Earthquake® 33970 Victory™ Rear Tine Tiller, Powerful 212cc 4-Cycle Viper™ Engine
COMPACT POWER- The 212CC Viper Engine delivers incredible sod-busting power in a compact frame which makes the Victory easy to handle without sacrificing performance. Counter rotating tines spin in the opposite direction of the self-propelled drive wheels providing the right combination of opposing forces to attack previously untilled ground with confidence.
INSTANT REVERSE- Unlike almost every other standard rear-tine tiller, the Victory offers a solution for backing up that requires no shifting. At the end of a garden row or in tight spaces, simply pull the reverse lever and walk the unit backwards to change direction.
HIGHLY MANEUVERABLE- With its compact frame and balanced weight distribution, the Victory allows for fluid navigation in tight growing spaces and stable pivoting capability at the end of garden rows.
RIGHT SIZED ADJUSTABILITY- The Victory is right-sized allowing the flexibility to use one machine to both attack new ground and maintain existing plots. Looped handlebars offer 3 height adjustments to ensure an ergonomic experience of the user. Till up to 10" deep and 16" wide in one pass.
5-YEAR - A bronze gear drive transmission, heavy duty forged tines, and all steel construction are all hallmarks of a tiller built to last. Because it is built to last, the Earthquake Victory is backed by a 5-year and US based service and support.
*Price from:  2023-09-29 at 01:09 EST
You'll be able to till at three different depths to make sure whatever you're planting has enough loose dirt to give it a chance at success.
This machine is built to last you throughout the years. When you're operating it, it won't tire you out as much as some other models will. It is a compact 162 pounds. Not as heavy as many other tillers in this high-end category.
It's easy to start and easy to use, even if you aren't a powerhouse. Comes with a 5-year warranty. ✔️ Let's get it NOW!
This Champion unit comes in both a Front and Rear tine models. Most people do buy the front tine model, but as I say, "Once you use a Rear Tine Tiller, you never go back."
This unit will reach a tilling depth that will be more than enough for most things you'll want to plant in your yard. It reaches a depth of 8 inches, and it will till an area that is 19 inches wide. That wide swatch will mean you won't have to take as many passes over the ground as you would with a smaller unit.
Currently on Sale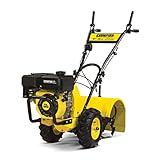 CHAMPION POWER EQUIPMENT 19-Inch Dual Rotating Rear Tine Tiller with Self-Propelled Agricultural Tires
Versatile - with a 19-inch tilling width and an 8-inch tilling depth, this Tiller features dual-rotation tilling, allowing a quick switch from forward to reverse for more flexibility in the garden
Powerful - the cast iron, gear-driven transmission is housed in a heavy-duty cast-iron case and powered by a 212cc engine
Efficient - 13-inch self-propelled agricultural tires power easily over uneven terrain, allowing you to accomplish more in less time
Dependable - four heavy-duty 13.8-inch hardened Steel tines with dual-rotation tilling are designed to tackle the toughest soil conditions with the least amount of effort
Champion support - includes 2-year limited Warranty with free lifetime technical support from dedicated experts
*Price from:  2023-09-29 at 01:09 EST
This makes the list of the best rear tine tiller candidates because of how powerfully it will cut through hard, compacted dirt, even when there's clay added into the mix. This tiller will be an investment that lasts you for years.
It will start in one pull so you aren't tired out before the tilling even begins. It's easy to operate. Weighing in at about 160 pounds. ✔️ I'm sold!
Ok, you caught me. Yeah, this is not a REAR tine tiller, but it is so good I decided to include it in this list. If you have a smaller or medium-sized garden, this might be just the unit for you. Much less expensive, smaller, and easy to store.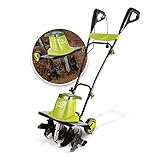 Sun Joe TJ604E 16-Inch 13.5 AMP Electric Garden Tiller/Cultivator,Black
[POWERFUL]: 13.5-Amp motor cultivates up to 16 in. Wide x 8 in. Deep
[DURABLE]: 6 Steel angled tines for maximum durability and performance
[EASY STORAGE]: Handle folds for convenient storage and easy transport
[ADJUSTABLE]: 3-position wheel adjustment
[WEVE GOT YOU COVERED!]: Your new tiller and cultivator is backed by the snow Joe and Sun Joe customer promise. We will warrant New, powered products for two years from the date of purchase. No questions asked. Contact snow Joe and Sun Joe customer Support at 1-866-766-9563 for further assistance.
*Price from:  2023-09-29 at 01:09 EST
This is an electric version with a 13.5 Amp motor and will run at a fast 370 RPM. lt will put out plenty of power for a small home garden. It has an 18-inch tilling width, which will make short work of the part of your yard. It has an adjustable tilling depth that will reach a maximum depth of 6 inches.
If you came here looking for a strong rear tine tiller, this is not the one for you. But it you want a small compact powerful unit that only weighs a faction of the weight, perhaps it is work considering. Maybe as a secondary unit for small jobs.
You can adjust the height of this machine to 3 positions, so you'll be more comfortable while you're using it. The wheels are quite small and we found that if you are tilling deep they will tend to drag to make your work a bit harder. Still a great unit for its size. ✔️ Yes! I want it!