When it comes to a cutting utensil like pruning shears, many shoppers will prioritize price over quality. This is exactly what manufacturers bank on! They want you to have to run out and buy a replacement pair! Well forget about all of the cheap, low-quality stuff; we want to show you the best pruning shears that you can get for your money.
Since there are a few things you should take into consideration before you choose, our guide will walk you through the most important features and we'll check out the top three pruning shears with you in our review section below.
Let's get started!
Before You Choose…
Don't choose a pair of shears just yet! There are a few things you need to take into consideration before you select them.
Shears have been around a long time. The inexpensive ones still match the shears of years ago, but there have been some great enhancements if you are willing to spend the money.
Handle. The handle is the first place you should look. Is it comfortable? Can you easily close the shears or does it require a little more hand strength? What is the handle covered in?
Many have a rubber coating on the handles, but some have foam (which is a bit more comfortable to grasp with bare hands) and others don't have much padding at all.
The only way to find a comfortable pair is to try before you buy, and if you can't do that, see what others have to say based on their experience with the shears. Look for handles that are labeled as "ergonomic" if you're interested in a pair that will feel comfortable.
Blade Maintenance. To help prolong the life of your blade, you might want to invest in a special grease or sharpening stone designed specifically for pruning shears.
Some shears also have replacement blades available, so it would be worth it to check and see how much those blades cost and how easy they are to find. But let's be honest here, most of us want a durable shear that we do not need to worry about special maintenance. All our recommended shears fall into this category.
Types of Pruners
You'll notice in our table that we included the type of blade system that the pruners are designed with: bypass, anvil, and ratchet.
If you're not already familiar with them, here are the differences:
Bypass – Scissor Type
These cut like scissors when you close the handle. Both blades come together sliding by each other just like a hefty pair of scissors. These are the most popular type of shears and generally the least expensive. They also are more limited in the size of items (stems, branches, etc.) that they can cut.
Anvil Type
Here, one blade slides down onto a flat surface so there is only one cutting blade. Since these have only one cutting blade that blade can be made of harder metal materials at a lower cost. Since there is no scissoring, you can attack larger branches with this type. The applied force is applied to a single blade rather than be distributed to 2 blades. Also, even if you cannot cut through with a single squeeze, you can then rotate and cut from the back.
Ratchet Type
If you have weaker hand muscles and you need a little extra assistance in order to cut through branches/stems, then a pair of ratchet pruning shears are a must. These help you cut the branch in stages, providing you with more leverage than the other two blade cutting styles. They will generally be more expensive because of the required gearing. Also, I'd expect that they might be more problematic, so make sure you do not skimp if you'd like this type.
Below I have recommended one shear from each of these categories. Take a look.
Some Pruning Shears Reviews
Felco F-2 Classic Manual Hand Pruner
The best pruning shears in the world, perhaps? We'll let you be the judge of that, but they are pretty amazing!
These bypass pruners are 8 ½" long and weigh just 8.5 ounces, featuring rubber-coated solid-forged aluminum handles and shock absorption to provide you with a clean, smooth cut every time. They even have a handy wire-cutting notch so you don't have to switch tools if you run into a piece of wire as you trim the bushes or trees.

Standard basic anvil blade
Includes a sap groove
Adjustable blades
A rubber cushion and shock absorber
Light application pruner
Includes a wire-cutting notch
Felco has thought of everything in terms of design, and thanks to the handy sap groove on the blade, it helps prevent the blade from getting sticky and gooey from wetter, sappy wood.
The level of quality is evident as soon as these slide into your hands. You may invest more money initially, but you won't be replacing these shears any time soon, which helps you to save money in the long run!
Mockins Professional Heavy Duty Garden Anvil
Mockins' Anvil pruning shears are an excellent alternative to the Felco's we just looked at.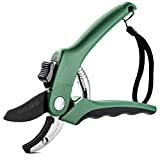 Highly recommended and highest quality.
Includes a safety lock.
All stainless steel construction for long-last rust free life.
Great second generation ergonomic handles.
They cost less but still work just as well when it comes to snipping your way around the garden and the handles are more comfortable to grip with bare hands thanks to the thick foam padding they're covered with.
Ergonomically, these are designed to help reduce the amount of stress that is placed on the wrist as you cut and rather than stainless steel blades, they've upped the ante with titanium coated blades to ensure strength and durability with regular use.
I really like the way they designed the anvil-holding surface. You will see the non-blade side has ridges to hold the branch steady while cutting. You will also find that the parallel cutting motion "snaps" branches apart. These are particularly effective when cutting dried branches.
The Gardener's Friend Ratchet Pruning Shears
The Gardener's Friend gets right to the point when it comes to selling their pruners: these are perfect for senior gardeners or those who lack hand strength.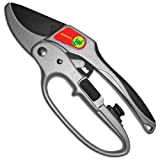 Outer handle ring to guard your hands.
Over 30 years of experience.
Very expensive construction, definitely professional grade.
Also, targeted for seniors.
The reason for this is the handy anvil and ratcheting system that helps you cut through thick branches and material without adding extra strain to the hand.
They feature hardened carbon steel blades and aluminum handles that have a thin rubber coating on the top that provides grip and prevent you from touching the cold metal with your entire hand. These even come with a replacement blade!
Those thick branches you dreaded before will come off cleanly with just a few snips from these shears.
They are a little large for some hands, but if you're wearing gloves when you use them, you probably won't experience any control issues.
The perfect gift for any gardener in your life!