There are tons of suggestions out there when it comes to nourishing tomato plants. And while each expert gardener may feel that their tomato tips are better than the rest, we just like having options. So, we review the best soil for tomatoes here and also show the top-selling products as well.
We want to make it easy for you to compare different tomato-friendly soils side by side to help you determine which is the best soil for tomatoes that you will be planting.
Are you starting from seeds or transplanting young plants?
Either way, you can check out the top soils below in our guide.
Current Top Selling Soils for Tomatoes
*Price from:  2023-09-29 at 05:46 EST
*Price from:  2023-09-29 at 11:26 EST
Potted Tomato Plants
If growing tomatoes in a pot, then you can really have the best soil for tomatoes. You are in complete control, so let's make the most of it and pick a great soil.
Are you growing them from seeds or will you be transplanting young plants into the pot? We found some great soils for both, as you can see in our table.
When it comes to choosing soil, the only solid rule that we can lay down is to avoid purchasing cheap products. If you really care about the quality of your tomatoes, then you will need to provide them with high-quality, and preferably organic, soil.
A few things that you want to see on your soil label include:
Perlite – Perlite is an organic product that comes from volcano eruptions where tiny sponge-like glass is formed from the rock. It is incredibly light and can hold a lot of water by holding it in its complex outer structure. So, it serves both for good drainage and helping with a reasonable about of water retention.
Vermiculite – Horticultural Vermiculite is an inert silicate that has been processed into pellets that are very light and have great water retention, much more the Perlite. But this also makes Vermiculite less aerating than Perlite.
Sand (see below)
Peat Moss (see below)
Some gardeners insist on using homemade compost in their pots. Others disagree since this can introduce foreign contaminants to a tomato plant and increase the risk of disease. We say, "To each his/her own!" and you can have great results either way.
If you are not getting the results desired, perhaps it is time to give new techniques a try. See how they work, and if they do the trick (or not), you'll know what to do (or not to do) next year.
In-Ground Tomato Plants
Some of you may want to transplant your tomatoes into the ground. In that case, it's helpful to know what kind of soil you have.
Tomatoes don't do well in soil that has a high clay content. If you find yourself in a clay-rich area, you can try various mulches to help make the soil more tomato-friendly.
The pH level of your soil will also have a huge impact on the success of your tomatoes, so aim for a pH level of 6.0 to 6.8 for optimal growing conditions. A pH of 7.0 is considered neutral, either acidic or alkaline, so tomatoes like most plants like slightly acidic soils.
Don't forget that it is super easy to test your garden (or pot) soil using a soil pH tester. These are inexpensive and an important part of any gardener's toolbox.
Fertilizer is also important, and for tomatoes, a good 5-10-10 ought to do the trick.
Top 3 Best Soil for Tomatoes Reviews
This soil is every tomato plant's dream, complete with bat guano, worm castings, sea fish and crab meal, composted forest humus, sandy loam, and sphagnum peat moss. The peat moss and forest matter give it a light, airy texture, which in turn keeps the soil more aerated in the pots.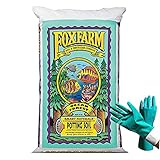 *Price from:  2023-09-29 at 00:53 EST
We really liked this soil for some indoor tomato plants. They grew under grow lights and also tried a pot out on the terrace where it thrived as well.
The bat guano and worm castings make a huge difference (and also make this stuff so expensive), but you will be rewarded with large, luscious tomatoes for salads and tasty sauces.
While this is great stuff, we can see how the price might cause some of you to look for better alternatives. If that's the case, check out the next two soils in our top three.
Black Gold's loamy soil is great for a variety of plants and vegetables, tomatoes included. Loamy soil has a mixture of sand, silt, and a little bit of clay, and tomatoes love the proportions used in this bag of soil.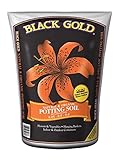 SUNGRO HORTICULTURE Black 8-Quart Gold 1302040 Organic Potting Soil
The all purpose organic potting soil that fits all your needs; convenience, quality tested organic ingredients and a proven track record of performance
Offers premium quality at outstanding saving
This product is made in United States
Listed by the organic materials review institute for the production of organic food and fiber
Rich, loamy mix is one of the best for all gardening applications
*Price from:  2023-09-29 at 06:45 EST
The soil has a dash of fertilizer along with some pumice and perlite to help keep things aerated. If you're not interested in purchasing a seed starter soil separately, you can use this to start your seeds and should have excellent germination results. The peat moss, bark, compost, and earthworm castings also nourish the tomatoes, and while it is still a bit pricey, it is a bit less than FoxFarm's probably since there is no bat guano.
You'll notice that it really holds in the water well, which means you'll have to be careful not to overwater your tomatoes.
We were impressed by this stuff and felt it was just the right mixture for our potted tomatoes!
Our final suggestion in the top three is from Espoma, and it is the best soil for tomatoes that you plan to grow from seeds.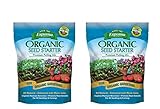 *Price from:  2023-09-29 at 06:45 EST
Some of you may prefer to use regular potting soil for seeds, but we have always had excellent results using a specialty seed starter soil like this since it is lighter and specifically formulated with seeds in mind.
The mixture of sphagnum peat moss, earthworm castings, peat humus, perlite and Myco-Tone all work together to promote root growth.
Keep in mind that the mixture is a bit chunky (we were expecting a finer mix), but the seeds still popped up and grew into healthy plants!