You are finally ready to put in your dream container garden. Your design and plant selections are ready. You have spent hours (and dollars) picking out plants. Your containers and gardening implements and are ready to put it all together. Time to demonstrate your green thumb, right? Well, don't forget to get the best potting soils to allow those plants to thrive.
Now you need to load up on potting soil, and you're hoping you can reduce the price of your project by going dirt cheap. All dirt is the same, right? Sorry to break this to you, but dirt is one of the most important elements of any garden.
Without a good base, your garden is in big trouble. We've compiled this guide to help you learn about the best potting soil available so your garden won't be a failure before you've even planted the first seed.
We are a professional reader-supported review site. You get our best product recommendations and we can receive small commissions from our affiliates at no cost to you. Win-Win!!
Current Top Selling Potting Soils
*Price from:  2023-09-28 at 12:50 EST
*Price from:  2023-09-28 at 14:06 EST
Advantages of Great Potting Soil
Finding the best potting soil can make a huge difference in the growth rate and health of your plants. It helps your plants retain both moisture and fertilizer, leading to sustained and steady growth.
Don't let the name fool you though, potting soil doesn't usually contain much soil. Instead, it is mostly made up of lighter materials like pine bark, peat moss, and vermiculite or perlite. These lightweight ingredients allow air to reach the roots of your plants and aid in drainage. These are essential for healthy growth.
Heavier Isn't Better. Don't judge whether a potting soil is best by its weight. You might think a heavier potting soil means you are getting more bang for your buck. But with potting soil, extra weight is never a good thing. If a potting soil is heavy, it means it has been filled with materials that are usually undesirable for general growing purposes.
You don't want a potting soil that uses a lot of heavy filler ingredients like sand because it will cut down on the air that reaches the roots. Roots need a steady supply of air to grow in a healthy manner.
Watch for the Fertilizer Levels. Pay attention to the fertilizer in the potting soil you choose for your container garden so you don't add too much fertilizer or too little additional fertilizer. If the soil contains fertilizer then you will want to wait before adding any more.
Some potting soil blends have a starter charge of fertilizer while others have a slow-release fertilizer already mixed in. If you choose a starter charge fertilizer, you'll need to add some after the first three waterings. Slow-release fertilizer lasts longer, but you'll still want to add some additional fertilizer after the first month.
Beware of Specialty Potting Soils. It can be confusing to choose a potting soil that meets your needs. There are so many different brands, sizes, and types out there. If you don't know what you are looking for, it can be overwhelming. Sometimes it's easier to know what you aren't looking for to help narrow down your choices.
Think about what plants you want to grow. If they have special nutritional needs that are crucial for growing them, there will be a type of potting soil made solely for them. You'll see several brands with products aimed at people who are growing African violets or cactus. That's because they both are finicky plants that can be difficult to grow under normal conditions.
Unless you want to grow one of these, never buy the types of potting soil which advertise they are a special blend meant for these plants. Stick to a good multi-purpose potting soil or you'll create conditions that won't support the growth of the common plants you'll likely want.
Top 3 Best Potting Soil Reviews
Foxfarm Ocean Forest Soil is the highest rated potting soil for several reasons. Perfect for container gardening, this all-natural organic soil has a unique blend of ingredients you don't often see in many potting soils.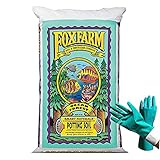 *Price from:  2023-09-28 at 12:50 EST
Some of its ingredients are earthworm castings, bat guano, and micronutrients, and its light materials, like sphagnum peat moss, make this a great choice for healthy roots. The lighter content of this potting soil will also allow great drainage, which will make your roots even stronger and stop them from rotting in case of overwatering.
This potting soil doesn't require you to add any fertilizer during the first month – you can start planting as soon as you tear the bag open. Clearly, this is one of the best potting soils. ✔️ Let's get it NOW!
Organic container gardeners will delight in this mixture from Burpee.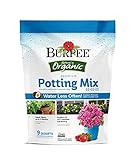 Burpee, 9 Quarts | Premium Organic Potting Natural Soil Mix Food Ideal for Container Garden-Vegetable, Flower & Herb Use for Indoor Outdoor Plant
ALL-NATURAL MIX: Burpee Organic Premium Potting Mix is formulated with plant food & coconut coir to promote seed & root growth and healthy flower, vegetable & herb plants. OMRI Listed for organic use. This premium mix releases essential nutrients immediately.
PERFECT FOR CONTAINERS: Use this growing mix for planting in containers or raised beds. The potting soil feeds plants instantly, then provides a slow release plant food that feeds for up to 3 months. Whether you're growing organic herbs, vegetable seeds or flowers in raised beds or patio containers, this growing mix will make the job a breeze.
RETAINS MOISTURE: Sustainable coconut coir helps hold the perfect amount of water for potted plants, indoor or outdoors. Coconut coir is an organic and sustainable resource that helps maintain moisture between waterings for vibrant flowers and delicious vegetables and herbs.
TIP FOR FLOWER POTS: Use flowers and foliage of varying heights to add dimension to your container. Place tall plants in the middle or back, mounding plants all around and spilling plants at the edge. Your live flowers will thrive with this premium potting mix.
100% GUARANTEED: Burpee is committed to the success of all gardeners. We treat each order with care to ensure healthy seeds, plants & gardening supplies are packaged and sent in excellent condition. If you are unsatisfied with your purchase, we aim to make it right!
*Price from:  2023-09-28 at 12:50 EST
Thanks to the coconut coir use in the mix, it will retain water much longer than many other potting mixes and feeds your plants for up to three months. It works well with vegetables, fruits, and flowers.
While it is one of the more expensive potting soils on our list, gardeners who don't have time to create compost or aren't always around to water will find a happy balance between cost and results. This stuff works! ✔️ I'm sold!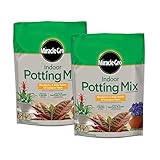 Miracle-Gro Indoor Potting Mix 6 qt., Grows beautiful Houseplants, 2-Pack
Blended for a wide variety of container plants
Feeds up to 6 months
Designed to be less prone to gnats (Contains no compost or bark, which are known to shelter fungus gnats)
Contains coconut coir, which holds and releases water and helps soil easily re-wet
This bundle includes two 6 qt. bags of Miracle-Gro Indoor Potting Mix
*Price from:  2023-09-28 at 12:50 EST
This formula helps roots take off fast, building the strong anchor a healthy plant needs. Miracle Gro Seed Starting Potting Mix is lightweight, providing enough air for the germination of seeds in your container gardens.
Miracle Gro Seed Starting Potting Mix is a great overall product, and it works well with a variety of seeds, whether they are vegetables, flowers or herbs. It retains moisture well, which means your seeds will have a constant supply and won't dry out.
With its blend of nutrients and drainage, this product offers plants, your container garden will be blooming in no time. You will find this popular and inexpensive option in many sizes to meet your specific needs. ✔️ Yes! I want it!