Are you wondering why your plants never seem to do well when you do everything you can to keep them healthy and strong? The problem might not be with your green thumb, it might be the soil you are planting them in. To see if your soil is alkaline, neutral, or acidic, you'll need to find the best soil pH tester on the market.
The pH level of your soil might be sabotaging your chances for healthy plants. You can also get additional benefits from getting a combination meter. The combo meters also measure the soil moisture level which is very beneficial for indoor plants that need more care.
We are a professional reader-supported review site. You get our best product recommendations and we can receive small commissions from our affiliates at no cost to you. Win-Win!!
Current Best Selling pH Testers
*Price from:  2023-09-29 at 06:25 EST
*Price from:  2023-09-29 at 12:59 EST
What's a Good pH Number?
The pH of a soil is shown by a numbered scale which goes from 1 to 14. Any number below 7 is known as acidic soil. Anything above 7 means your soil is alkaline. The Goldilocks zone, which is the pH that is just right for most plants, goes from 6.2 to 7.2. Although there are some plants that do better with strongly acidic or strongly alkaline soil, the majority of plants will be best served by a slightly acidic to neutral soil indicated by the pH of 6.2 to 7.2.
When to Test
You can test your soil at any time during the year. If you have a lot of plants you'll be putting in during the spring or fall, you may want to test the soil before then. If your soil isn't the right pH, you'll have time to take corrective measures before you plant.
What Kinds of Testers Are Available?
Soil pH testers come in three different types. There are pH test strips, chemical colored dyes and meters.
Test strips can be tricky if you aren't good at distinguishing subtle shades of color. The colored dye testers also require you to use a color chart to determine the pH level. Color matching is easier than detecting shade differences but not as easy as reading a meter. The meters use a probe that you stick into the soil. You can then read the results of a numbered gauge on the unit.
Many testers combine pH testing with moisture testing and some also add a light meter. Generally, a light meter will be of little use. Plants generally are classified as wanting Full Sun, Partial Sun, Diffused Sun, etc. and you can tell that with common sense.
It is highly recommended that you get a tester that also includes a moisture meter especially if you have indoor plants! Many casual indoor gardeners kill plants by either over-watering or (less likely) under-watering. A simple and fairly inexpensive meter can take the guesswork out of it.
If you have a special plant that you want to monitor for moisture, then look for a meter that you can leave in the plant. Some even have alarms, but I have not found any to recommend in that category.
Top 3 Best Soil pH Tester Reviews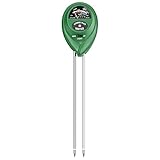 Atree Soil pH Meter, 3-in-1 Soil Tester Kits with Moisture,Light and PH Test for Garden, Farm, Lawn, Indoor & Outdoor (No Battery Needed)
3-IN-1 FUNCTIONS: You can measure soil moisture, pH value and sunlight intensity. It's helpful for you to plant flowers, plants and make them grow healthy and strong(This soil tester CAN ONLY be used in soil, it CANNOT be used to test any liquids)
EASY TO USE: Simply insert the probes into the soil about 4-6 inches (2/3 of the probes), and you'll get your reading
COMPACT FOR INDOOR & OUTDOOR USE: Know when to water, adjust pH, or change lighting for your flowers, plants both indoor and outdoor
NO BATTERY NEEDED: No batteries or electricity needed, plug and read
SCIENTIFICALLY ACCURATE: Sensitive probe could sense changes of the soil and transfer details to the conductor, displaying the accurate values for you
*Price from:  2023-09-29 at 06:25 EST
This 2-in-1 tester measures both moisture and pH levels in the soil. It's simple to operate. You just insert the probe about two to four inches deep in the dirt you want to test and let the meter do all the work. In just minutes, you'll have a reading. When you're done, just take the probe out of the dirt. Wipe it clean and store it somewhere until you need it again.
It doesn't use batteries so you don't have the added expense of replacing those every few months like you would with electronic meters.
Because it is so small and easy to use, it is great for either indoor or outdoor plants. It gives a scientifically accurate reading so you'll know when it's time for you to adjust the pH balance of your soil to keep your plants healthy and strong.
It's definitely the best soil pH tester on our list! ✔️ Let's get it NOW!
Currently on Sale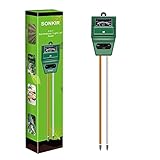 SONKIR Soil pH Meter, MS02 3-in-1 Soil Moisture/Light/pH Tester Gardening Tool Kits for Plant Care, Great for Garden, Lawn, Farm, Indoor & Outdoor Use (Green)
Kindly NOTE: This soil tester can not be applied to test pH value of any other liquid. If the soil is too dry the indicator will not move, and water it before testing.
3 METERS IN ONE: Soil moisture level, Soil pH value and Sunlight level could be tested easily according to your need by switching the function button of this soil meter.
NO BATTERY NEEDED: Simply insert the meter into soil, wait few minutes, accurate test results will be displayed on the readout panel. No battery is needed.
STURDY AND SCIENTIFIC DESIGN: Reliable materials and upgraded technology used for this soil meter make it advanced and high-quality for long-term use.
MULTIPURPOSE SOIL TEST KIT: Portable and compact design enables you to use this soil meter for house garden, farm, lawn and any other soil & plant analysis. Ideal for indoor and outdoor use.
*Price from:  2023-09-29 at 06:25 EST
This meter will measure the pH in the soil, and it will also moisture and light. It provides troubleshooting for plant growth. If your plants are having problems with withering leaves or slow growth, this unit may help get them back on track.
It's portable and compact, which means you'll be able to easily carry it around to any test site. It has a big display that won't leave you squinting and scratching your head while trying to interpret the numbers on your meter. ✔️ Show me this one!
*Price from:  2023-09-29 at 06:25 EST
This meter features a big display and separate wand, making reading much easier. Just hold the display in your hand and insert the wand into the soil. This design also allows easy multi-spot testing.
This is a bit more rugged than some of the other units you will find, but still not overly expensive. It is only a single function tester, just testing for pH. If you need moisture as well, then look at a different device. ✔️ Yes! I want it!