When there's not enough rain, your garden can get thirsty. The best soaker hose will help you keep your plants and other foliage well-watered. Soaker hoses release water slowly and evenly to make sure that everything gets all the water that it needs.
There are plenty of hoses on the market today that help you with gardening. They tend to come with different capabilities. This means choosing one is not always as straightforward as you might expect.
With so many hoses available, we have created this handy guide to help you choose the best soaker hose for your needs.
We are a professional reader-supported review site. You get our best product recommendations and we can receive small commissions from our affiliates at no cost to you. Win-Win!!
How to Choose the Right Soaker Hose
A common issue is that some soaker hoses don't disperse the water evenly along the length of the hose. This leads to some patches that are overly wet, and others that are dry. It is also important to be sure that the hose can be bent without creating kinks that limit the flow of water through the hose. Here are some key features you should look for:
Even Water Distribution. The best soaker hoses on the market are designed specifically with even dispersion of water in mind. You want the whole garden evenly watered. This is perhaps the most important aspect to look for in a soaker hose.
Anti-kink Technology. Some of the best hoses on the market are made from materials that help to prevent kinks and tangling from occurring. These are among the most popular on the market.
Leak-Resistant Attachments. When using hoses it is important to maintain a reasonable amount of water pressure if the hose is to be effective. This can mean ensuring that the hose is attached securely to the faucet. The best hoses come with attachments that fit securely to the faucet and prevent any leaks from occurring.
Length. The length of hose that you need is also an important consideration. Make sure that the hose you select meets the minimum length you require. It is possible to daisy-chain hoses together in order to provide additional length if needed.
Budget and Warranty
Budget is nearly always a deciding factor when making purchases but many soaker hoses will meet your minimum requirements at an affordable price. A good warranty can also be very useful should something go wrong.
I will say though that I have thrown away many inexpensive hoses. The less expensive ones are susceptible to damage. So, if pulling around a bush or rock then can get an extra big hole in them. Once this happens, too much water will exit at this damaged place and you will not get even watering along the whole length of the soaker. So don't skimp or your soaker may only last you one season.
Top 3 Best Soaker Hose Reviews
If you want a professional soaker hose that won't give out on you in just one season, consider investing a bit more in one like this from Water Tight.
Currently on Sale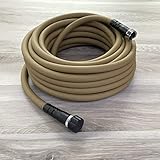 Water Right SKR-050-MU Soaker Garden Hose, 50-Foot, Bristle Grass
Manufactured in the United States using 100% Lead-Free, top quality, UV stabilized polyurethane
Solid chrome-plated machined lead free-brass fittings are long-lasting and will not ever-tarnish
Specially engineered strain reliefs on both hose ends to prevent hose kink; flexible in all weather conditions, even freezing temperatures
*Price from:  2023-12-09 at 02:38 EST
It is made out of polyurethane paired with brass fittings – there are no pthalates, no lead or BPA in sight. Feel free to drink out of it if you are too far from your sink!
Water flow is also excellent through this hose because the pressure is even, so even at the end of it you still have plenty of water coming out.
It's available in two other lengths, so if you are in need of something shorter or something longer, they have what you need. ✔️ Let's get it NOW!
To get to all parts of the garden, a flexible hose is needed and the Melnor Flat Soaker hose offers just that. This hose is available in 3 lengths of 25, 50, and 75 feet and can be connected with other hoses if needed.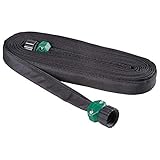 Melnor 65060-AMZ 25' Flat Soaker Hose with 2 Washers Set
Extremely flexible and versatile - it gets water right where you want it! You can place it above ground or under a thin layer of soil or mulch. The porous hose delivers soft and gentle watering with no waste. It's perfect for raised beds and vegetables!
Easy connection - included rust-resistant end cap allows multiple hoses to be connected together
Flattens for easy storage - the compact design dripper only takes up About 0. 035 ft³
2 Extra washers included for a leak-free seal
Backed by a Melnor 2-Year Limited . Melnor stands behind its products. N
*Price from:  2023-12-09 at 02:38 EST
The flat design of this hose helps to make it low profile when water is not running through it. This makes it fit into the garden landscape better and also easy to roll up and store away. Owners note that the distribution of water released is fairly consistent even at low pressure. Some leaks might occur if the water pressure is turned up too much.
With a 2 year warranty, you can be confident that this hose will last you well for a couple of years at least. If you are looking for a reliable soaker hose that is easily stored away then the Melnor flat soaker hose could be just what you have been looking for. ✔️ I'm sold, let's get it!
Another hose that helps to release water evenly throughout its length is the Gilmour. It is a flat weeper/speaker hose is another popular choice on the market. Its clog-free fabric covering helps to prevent the hose from the bombardment of UV light from the sun while also helping to prevent clogging for even distribution of water.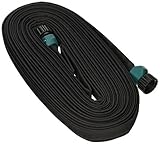 Fiskars Gilmour Flat Weeper Soaker Hose, 50 feet, Black (870501-1001)
Snake through rows of new seedlings or under mature plantings for efficient, deep watering season after season
Create an easy DIY watering system by burying the hose under mulch. Hook it up to a timer and enjoy healthy, vibrant plants without all the watering work
Made of 100% environmentally-friendly recycled vinyl
Clog-resistant fabric cover for consistent soaking
7-year warranty
*Price from:  2023-12-09 at 02:38 EST
Some owners have complained that this hose is will burst under too much pressure. We are unsure if they had defective products. A suggested solution is to put a pressure reducer at the inlet. This could be a penny with a small hole in it, or you can buy a specific piece. This will help to regulate the flow and prevent bursting.
This hose comes with a 7 years warranty. This makes the purchase a good value for the money, and one of the best soaker hose products available. For a hose that distributes water evenly and offers protection against the elements, the Gilmour flat weeper/soaker hose could be all that you need. ✔️ Yes! I want it!