If your yard resembles a barren wasteland, and your neighbors are starting to grumble about it being an eyesore, you need to find the best grass seed.
Before you go to your local gardening center and start throwing bags in your cart, there's some important information you need to know about grass seed. If you don't know what you're doing, you could be throwing money down the drain while you're tossing seed on your yard. The only green you'll see is the money leaving your wallet.
Do yourself and your neighbors a favor and read this article before you buy anything. It will help you pick the best grass seed for your needs.
Things to Consider Before Planting Grass Seed
There's a lot more to planting grass seed than simply throwing down a handful, turning your sprinkler on, and hoping for the best.
How Much You Use Your Lawn.
Some grasses do not handle foot traffic very well. If you use your yard a lot, you need your grass to do more than just look nice. It must be durable as well.
If You Need Cool or Warm Weather Grass
What is the temperature like where you live? If you have scorching summers and frequent droughts, you should use warm-season grass. If you get some warmer weather, but also see a lot of snow, you'll want to consider using cool-season grass.
Reseeding the Whole Yard or Just Filling In Bald Spots
Determining this factor will help you decide how much seed to buy. You'll need to know the square footage of your yard before buying seed.
How Much Sun Your Yard Gets
This can make a big difference when choosing the correct seed. You might inadvertently choose a variety that needs more sunlight than your yard gets, and that would be a giant waste of time and money.
We are a professional reader-supported review site. You get our best product recommendations and we can receive small commissions from our affiliates at no cost to you. Win-Win!!
Current Best Selling Grass Seeds
*Price from:  2023-09-29 at 03:46 EST
*Price from:  2023-09-29 at 11:21 EST
How Much Grass Seed to Buy
To know how much seed you need to buy, figure out the square footage of your yard. Then you'll look at the two coverage numbers that most bags of grass seed usually have written on them.
The biggest number on the bag will tell you the square footage that bag would cover if you were using it to reseed, also known as overseeding, your yard. The lower coverage number tells you how many square feet that bag would cover if you have big bald spots or you are starting with nothing but dirt in your yard.
Watch out for Temporary Grass Seed
If you see a bag that says it will create a temporary lawn, it is probably a quick-growing but not long-lasting variety. This is often Rye Grass. I would skip these altogether unless you really need to get some grass growing quickly and plan to replace it later.
You'll have to replant this seed every single year to have a good amount of grass. It'll die off after a while, and then you'll be back at square one. You might as well save the expense of repeated plantings and do it right the first time.
Top 5 Best Grass Seed Reviews
Kentucky 31 is the best grass seed on our list and receives the highest ratings because it is a quality product for a low price. This seed adapts to different soils and is tolerant of a variety of climates. Tall fescue is known as a cool-season grass. It's a good durable seed that doesn't take much work – you don't need to coddle it to make it grow.
*Price from:  2023-09-29 at 03:46 EST
Since it resists weeds and disease, it requires less maintenance on your part. You will have a much better chance of it doing what it is supposed to, create a lush carpet of grass on your yard.
This seed isn't finicky – it does well in direct sunlight and it does well in shade. It can take about 25 to 50 pounds to seed a one-acre property. Overseeding takes about half as much seed as completely seeding an area. Once the seed is correctly planted, you can see the seeds sprouting in approximately a week. ✔️ Let's get it NOW!
This grass seed mix is made especially for fall seeding. This is great if you are trying to thicken your grass for the spring following a long, active summer in which your grass has taken a beating. It can be used on new lawns or as a filler to thicken existing lawns.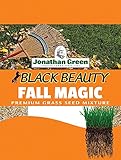 *Price from:  2023-09-29 at 03:46 EST
This mix is good in both sun and shady areas, making it a good multi-purpose choice for homeowners. Some of the varieties of grass included in this mix are Dakota tall fescue, Taos tall fescue, ryegrass, bluegrass, and creeping red fescue. Fescue, bluegrass, and ryegrass are good cool season grasses.
Jonathan Green Fall Magic germinates quickly and works well with little effort on the grower's part. It produces dark green grass that will look nice by the time spring and summer rolls around and you're hosting backyard barbecues. ✔️ I'm sold, let's get it!
Scotts has many excellent seeding and fertilizing products. We really liked this particular mix of theirs featuring a 3-in-1 solution to help thicken your existing lawn.
Currently on Sale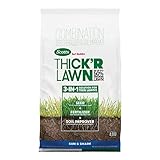 Scotts Turf Builder THICK'R LAWN Grass Seed, Fertilizer, and Soil Improver for Sun & Shade, 4,000 sq. ft., 40 lbs.
Scotts Turf Builder THICK'R LAWN Sun & Shade is a 3-in-1 solution uniquely formulated to help turn your thin lawn into a thicker, greener lawn with stronger roots
Get up to a 50% thicker lawn with just one application (subject to proper care; results may vary based on current condition of lawn)
Lawn improvement product contains grass seed to fill gaps in current lawn, fertilizer for thicker, greener turf, and soil improver to enhance root development
This 3-in-1 is a great addition to your lawn care program with one application in the spring and one application in the late summer or early fall
One 40 lb. bag of Scotts Turf Builder THICK'R LAWN Sun & Shade covers 4,000 sq. ft.
*Price from:  2023-09-29 at 03:46 EST
In it, they've mixed seed, fertilizer and a soil-improving ingredient that will help breathe new life into your lawn and the soil beneath it.
Use it in both sunny and shady areas of your lawn. However, it is recommended for the Midwest and the Northeast Central regions of the US. So if you live in a different area, you should consider some of the other options on our list. ✔️ Yes! I want it!
Grass seed doesn't always do well in intensely shady areas. If you haven't had much luck with typical grass seed under the cover of big trees in your yard, you may want to consider a shady seed mix.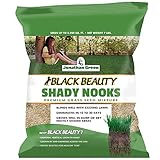 Jonathan Green (11959) Black Beauty Shady Nooks Grass Seed - Cool Season Lawn Seed (7 lb)
DENSE SHADE GRASS SEED - Black Beauty Shady Nooks Grass Seed is our most shade-tolerant grass seed mixture. This grass seed survives and thrives in both wet and dry shady areas where other turfgrass mixtures fail.
THRIVES IN DEEPLY SHADED LAWNS - Our cool-season grass seed mix contains tall fescues, perennial rye, and fine fescue turfgrass varieties. This unique mix allows our shady seed mixture to grow in deep shade right up to the base of trees.
REQUIRES LESS FERTILIZER - This full shade lawn seed requires less fertilizer and water than our competitor's grass seed mixtures.
PROVIDES A DARK GREEN LAWN - This grass seed mix produces healthy, dense, and attractive turf with a dark-green color. The best time to apply is mid-August to mid-October, or mid-March through mid-May.
COMPLETE COVERAGE - This 7 lb bag will seed up to 2,625 sq. ft. for new lawns. For overseeding, this bag will seed up to 5,250 sq. ft. The germination time for Black Beauty Shady Nooks Grass Seed Mix is 10 - 20 days.
*Price from:  2023-09-29 at 03:46 EST
This mix has been formulated to thrive even in the shadiest areas, whether they are damp or dry. In this mix, you'll find sun-up poa trivialis and Harpoon hard fescue. The poa trivialis grass survives in damp, shady areas, while the fescue can handle dry shade.
This seed mix takes longer than some of the others on the list to start growing, but it won't have sunlight to help it along. You should see some growth after two or three weeks. After a few months, you should have a blanket of lush, dark green grass covering your shady areas. ✔️ Let's get it NOW!
This grass seed works well in areas that get filtered sunlight. You don't want more than six hours of sun or shade. It won't do well in full sun, and it also won't do well in full shade, but if your yard offers a happy medium of sun and shade, you'll want to consider this grass. It's a soft grass that keeps a nice green color year-round.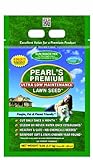 *Price from:  2023-09-29 at 03:46 EST
As its name promises, you won't need to provide much maintenance to keep this grass healthy. People who love grass but hate to mow their lawns should be happy to know they'll only need to cut their grass about once a month with this mix. It also doesn't require much watering once established. This makes it a good choice for people who are trying to conserve water or living where there is less rain fall. ✔️ I'm sold, let's get it!