Composting is one of the easiest ways you can reduce household waste. It's easy to do, requires very little work, and can be done indoors or outdoors. It's also very useful to gardeners since compost is one of the best ways to add the rich nutrients that plants love to your soil! You don't even need a yard to compost, but you will want the best compost bin.
In this handy guide, we go over some of the highest-performing compost bins available. Included on this list are all the major types of composters, include tumbling and stationary bins. If you're looking for the best compost bin, you've come to the right place.
Things to Consider
The most convenient way to compost is to keep both a small bin in your kitchen, which is only about a gallon or so (which will allow you to keep several days' worth of scraps, before dumping them into your composter), in conjunction with a larger bin. Generally, composters are designed for outdoor use, with a few notable exceptions, such as worm composters, which are great for efficient indoor composting.
The two main types of composters are stationary (or "continuous") and tumbling. Both are available in a variety of sizes. If you have a big family, or want to generate more compost, look for a larger composter.
Stationary Bins. Stationary bins, which can be enclosed or open, are generally larger and also easiest to use – just toss in your scraps and yard waste, and wait to collect the compost from the bin.
Tumbling Bins. While stationary bins can take a long time to generate compost, tumbling bins (enclosed, elevated containers that have a mechanism or handle for rotating the entire load of compost) are great for speeding up the process. Because these require a bit more work, and produce batches, they are better for gardeners who don't mind slightly more planning. Other composter types include stackable bins, such as worm towers.
We are a professional reader-supported review site. You get our best product recommendations and we can receive small commissions from our affiliates at no cost to you. Win-Win!!
Buying Information
In the list above, there are examples of every main composter type. To choose the best compost bin for your household, you need to consider size, type, and ease-of-use. Composters can also differ in the following ways:
Covered Versus Uncovered (Stationary Bins). Uncovered bins are the easiest to use. A drawback, however, is that small animals, such as rodents, can easily find their way in. Covered composters remove this problem.
Single Versus Multiple Chambers (Tumblers). Tumble composters produce compost in batches. Some models have two chambers, which allows you to "time" to separate batches.
Top 3 Best Compost Bin Reviews
Currently on Sale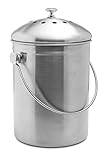 EPICA Stainless Steel Compost Bin 1.3 Gallon-Includes Charcoal Filter
AS FEATURED IN BON APPETIT AND FORBES | THE PERFECTLY SIZED COMPOST BIN: Say hello to Epica's premiere 1-gallon compost bin. The world fell in love with Epica's perfectly sized marvel, made compact enough to keep on your counter and big enough to hold several days' worth of compostable organic kitchen. Measures 7.16" in diameter x 11" high.
SIMPLE CLEANING PROCESS: The stylish stainless steel bin is molded in one piece and resists rust and leaks, unlike other bins that are welded and prone to rust and leakage at the weld points over time. Eco-friendly convenience is always at your fingertips.
CONTROL ODORS NATURALLY: The airtight lid and replaceable activated-charcoal filter work together to trap and control odors naturally, so your kitchen compost bin can sit conveniently on your countertop or wherever you need it. The chic modern design also complements any decor.
DURABLE STAINLESS STEEL CONSTRUCTION TO LAST A LIFETIME: Molded in a single piece for strength and durability that won't scratch, crack or chip. Made of premium, rust-resistant high grade stainless steel -- will never leach chemicals into your compost.
COMES WITH REPLACEABLE CHARCOAL FILTER: The specially designed activated-charcoal filter is the key to an odorless indoor compost bin. With careful handling, the filter will last more than 6 months.
*Price from:  2023-03-19 at 05:48 EST
The Epica Stainless Steel 1.3 Gallon Compost Bin is the highest-rated compost bin in our list, perfect for using indoors in conjunction with a larger (indoor or outdoor) bin. The majority of users give it a five-star rating, and we agree that it's one of the top options out there for getting started with composting. An essential product, both in terms of its convenience and size, it's the best compost bin.
Made of elegant, and durable, rust-resistant stainless steel, the Epica bin has a replaceable, easy-to-clean charcoal filter and an airtight lid to lock in odors. This is a countertop composting bin, so it does need to be used together with a larger bin, where the bulk of the composting will happen. This sleek steel container is large enough to hold scraps for several days, reducing the number of trips you need to make outdoors. Right at home in any kitchen, it's perfect for everyday composting of kitchen and meal scraps. ✔️ Let's get it NOW!
FMCP Outdoor, a North American company, makes a nice large, 37 gallons, tumbling bin. This outdoor composting bin is made of durable, food-safe, and BPA-free materials. We find that its discrete design, black color, and huge size ensure that this tumbler is a winner.
Currently on Sale
FCMP Outdoor IM4000 Dual Chamber Tumbling Composter (Black) Canadian-Made, 100% Recycled Resin - Outdoor Rotating Compost Tumbler Bin for Garden, Kitchen, and Yard Waste
Tumbling composter – avoid digging and mixing your compost pile by hand. The tumbling design makes mixing easy and efficient. Just close the door and turn it 5-6 times every 2-3 days. In hot sunny conditions and with a proper balance of ingredients the compost can finish in as little as 2 weeks.
Easy to use – fantastic for beginners! The large openings and removable door make it easy to add Scraps/clippings and remove finished compost. Deep Fins on the body provide great ergonomic handholds.
Two composter chambers are better than one – two separate sides allow the first side to finish while leaving the second side Available to add fresh Scraps/clippings. Continuously swapping sides after finishing will create an uninterrupted flow of rich, healthy compost. Total capacity 37 gallons (5 cu Ft)
Durable construction – BPA free, UV inhibited, 100% post-consumer recycled polypropylene is contact safe and will not degrade under direct sunlight. The galvanized steel frame is corrosion resistant.
Made in Canada
*Price from:  2023-03-19 at 05:48 EST
It's easy to use and rotate, and it comes ready to use – no assembly required. With 2 composting chambers, you can stagger your composting to always have healthy compost ready for use. Just alternate the side that you add your new materials into. I'd suggest a 2-3 week cycle if the bin can be placed in direct sunlight. It will work that quick.
For best results, rotate the bin once or twice a week. The large openings makes it easy to load and unload the compost. This bin has lots of holes for proper aeration and deep fins that break up and mix the compost on rotation.
If you're looking for a tumbling composter bin that is easy to use and has big capacity, this is one of the most popular. The heavy-duty octagonal bin weighs in at 28 pounds so you know it is made tough. ✔️ I'm sold, let's get it!
The Worm Factory 360 is one of the best options for indoor composting. The durable four-layer tower can be expanded vertically to include up to eight additional layers; it's the perfect size for small households of up to four people.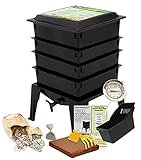 Worm Factory 360 Black US Made Composting System for Recycling Food Waste at Home
US made with durable high quality plastic. Houses thousands of worms that can consume several pounds of waste each week. Compact and expandable.
The Worm Factory 360 has a standard 4-Tray size which is expandable up to 6 trays when following the directions, giving it the largest volume of any home vermicomposter.
Each tray has a grid bottom for worms to migrate upward as new food is added. As each tray is filled another is added to the top, when the bottom tray is harvested it becomes the top creating a continuous loop system.
The worms will process food waste into fine compost full of nutrients. Worms can eat about half their weight in food per day. If you start with 1/2 lb of worms they can eat a 1/4 lb of food per day. Gradually increase as the size of your community grows.
5 year limited warranty. Odor free operation. Create compost year-round indoors.
*Price from:  2023-03-19 at 05:48 EST
Worm composters are unique because they allow you to efficiently compost indoors, without odors, even if you live in an apartment. Requiring live red wiggler worms (not regular earthworms), the Worm Factory is best kept in relatively mild temperatures, and it can also be used outdoors. It's worth noting that certain items can't be composted this way, including meat, citrus, and onions.
This system also allows you to easily collect both compost tea and worm castings, which are great natural fertilizers. The Worm Factory 360 allows you to harvest compost after approximately three months, and it can be used year-round. Its unique design and features make it one of our top choices for the best composter. ✔️ Yes! I want it!